If you didn't already know, I'm the April Fools' Day queen. I love playing April Fools' pranks on my kids. This year though, with all the craziness going on because of COVID-19, I almost forgot all about it. We're entering Week Three of being quarantined, we're still figuring out how to do school from home, and we're learning how to do life with none of our usual activities.
If ever there was a time when a bit of normalcy is needed, it's now. So when I woke up this morning and realized that April Fools' Day is almost here, I decided to get with the program and come up with some Quarantine-specific pranks to play. (I also made some Easter-specific pranks a couple of years ago when the two holidays collided… you could totally extend April Fools' Day a couple of weeks to Easter this year if you wanted).
Let's bring a little levity to this situation with these six April Fools' pranks for when you're quarantined!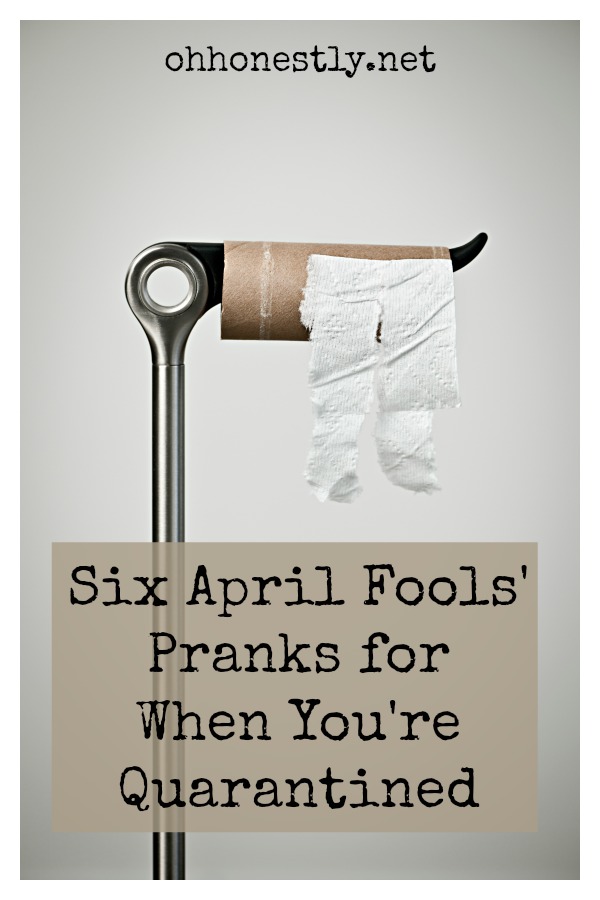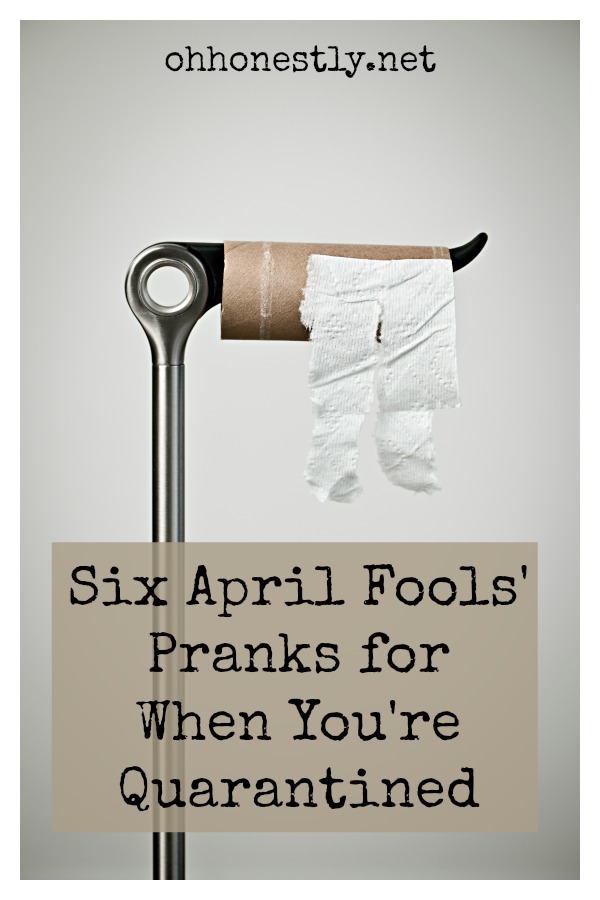 1. Hide All the Toilet Paper
This one is totally believable since the shortage is all anyone can talk about. Hide your extra rolls and leave only a few squares on the roll in each bathroom. Wait for someone to yell for some before telling them you're out.
For added fun, hand them a small towel when they ask for TP and tell them you're going to start using the Family Cloth. (Just thinking about this makes me gag.)
2. Rub Melted Chocolate on the Toilet Paper to Make It Look Like Poop
You've probably seen the videos going around of this gag (see what I did there?). Rub some chocolate or another brownish, poop-like food onto the outermost squares so that it looks like someone got poop all over the TP, then wait for someone to go to the bathroom to discover it.
This would be especially good to do right before hiding all the toilet paper. Put the chocolate on the last few squares, then inform your desperate and disgusted family member that there's nothing left to use.
3. Hide Your Kids' Favorite Snacks And Tell Them You've Run Out (And So Has the Store)
Hide the snacks. All of them! Watch the panic that ensues while you laugh to yourself and sneak a handful of Goldfish crackers.
4. Tell Your Kids You've Decided to Continue Homeschooling Next Year
Careful! This one will only be funny if you and your kids are less than thrilled with the new Corona School situation you find yourselves in. If your kids are enjoying learning from home (but you're not), this one could blow up in your face.
On the other hand, if you've decided that homeschooling is right for you, tell the kids that school is starting back up next week.
5. Make the Computer Mouse Stop Working
If your kids need to use the computer for remote learning or your spouse needs it to work from home, give them a little scare by making the mouse not work. All you have to do is tape a piece of paper to the bottom of the mouse.
6. Turn Off the WiFi
This one is simple and it's sure to get a BIG reaction.
What April Fools' Day pranks are you going to play this year? Make sure to check out my other suggestions (many of them will work when you're stuck at home!).