This post contains an affiliate link. At no cost to you, I will receive referral credit if you sign up for ebates through this link. Thanks for your support!
Philosophies on how to raise children may abound, but if there's one thing all parents can agree on, it's this: Having kids is expensive. From food and clothing to educational and extracurricular fees, the expenses never stop, and it's often over the holidays that parents feel the biggest pinch on our wallets.
It can be easy to go overboard buying gifts this time of year, but it's wise to ensure that we don't overspend now and pay the consequences later. The following six tips will not only help you save money on your Christmas shopping, but will also give you the gift of a little extra money in the bank.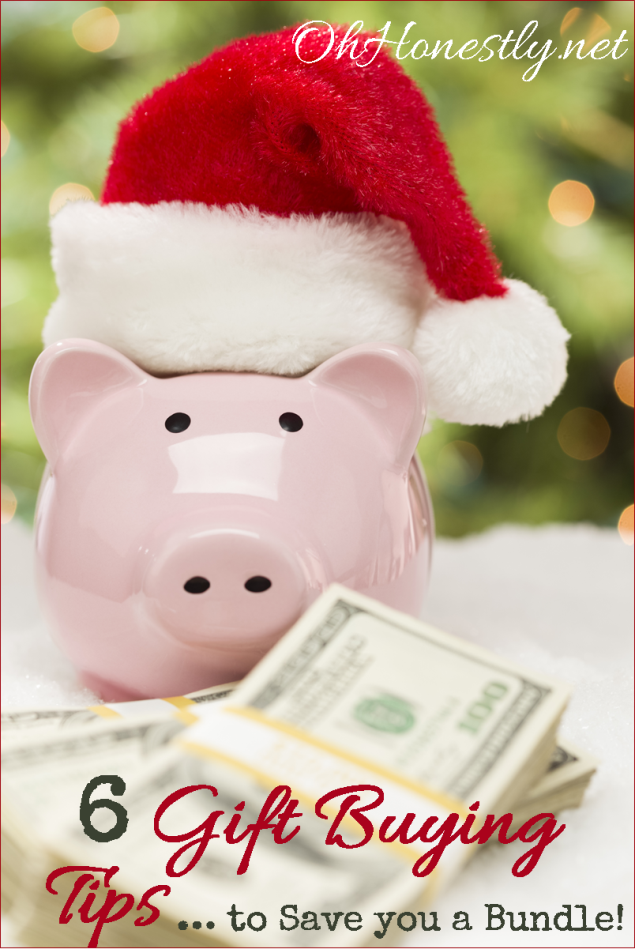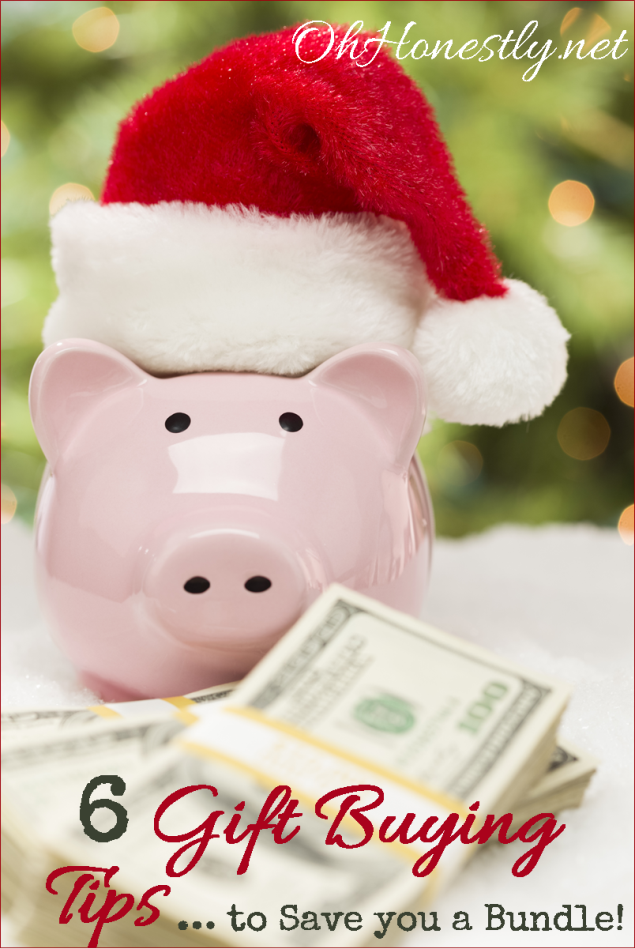 Six Holiday Gift Buying Tips to Save You a Bundle
1. Set Limits
There are a number of ways to do this, but it's important to set your limits before you begin shopping. Some families choose a specific dollar amount to spend on each child. Others choose to have a three gift limit.
Mom of two, Amanda Beals, finds this method useful in more ways than one. "[The kids] always get so much from all the grandparents, by the time it's all over, we're stuffed to the brim with new things they hardly have time to play with." A three gift limit ensures that Beals stay on budget and it keeps clutter to a minimum.
Decide what limit you're most comfortable with as a family and then stick to your guns! (Depending on the age of your children, you may want to include them in this decision, especially if you've gone a little crazy with gift giving in the past. It might be wise to prepare them to wake up to three gifts if they're used to getting 20!)
2. Comparison Shop
Of course it makes sense to find the lowest price on an item, but this is often easier said than done. With the number of retailers, both brick and mortar and online, selling the same item, comparing prices can be a daunting task.
Thankfully, there are a number of apps specifically for this purpose. Just scan a barcode or type in the item and the app will tell you where to find the best deal.
3. Shop Sales
This might seem a little obvious, but I'm not just talking about going crazy on Black Friday. If you have some bigger ticket items on your list, check online to learn what time of year those items are usually the cheapest and buy them then.
Toys, for instance, are typically at their cheapest in the days leading up to Christmas, but bicycles usually go on sale in September as the next year's models are released.
4. Buy Secondhand
Buying secondhand is a great way to save money on just about anything. You can often find new or barely used toys, clothes, furniture, and more for a fraction of the cost of buying new.
Ashford Evans, mom of three and blogger at Biscuits and Crazy, says, "This year I picked up several toys: A huge bag of Mega Blocks for $10.00 and some Melissa and Doug toys for about $5.00 a piece. The key is to buy the items that look brand new and save around 75% off retail!"
Visit thrift shops to not only find great deals, but also support local businesses. Barter and swap groups abound on Facebook; just type '(My town) barter and swap' in the Search bar and you'll find a list of groups to join. You can also check Craigslist and similar sites.
5. Use Rebate/Coupon Sites
If it is in your power, never ever pay full price for anything. With technology the way it is today, it's easier than ever to find additional savings on items.
If buying at a brick and mortar shop, check their website or Facebook page for coupon codes before shopping.
If buying online, do the same, but also check out RetailMeNot and Ebates. RetailMeNot offers the latest coupons and deals for thousands of stores while Ebates will pay you a percentage of your purchase when you shop through their site.
6. Start Early
I've put this one last since it's a bit late in the season to implement it this year. However, I strongly suggest starting your shopping early next year. Maybe this will involve actively seeking out certain items (as mentioned in Tip #3), but more likely it means keeping your eyes open for great deals when you're out and about.
Perhaps you'll find a jersey of your child's favorite football team on clearance when the season is over. That's the perfect time to buy and store it away. Just don't forget that you bought it when December rolls around!
By following these tips, you can save a bundle on your Christmas shopping, and since saving money will also save you stress, it's really the gift that keeps on giving.
What's your favorite way to save money on your holiday shopping? Tell me in the comments below.