Disclosure: This post contains affiliate links. Any purchases you make will cost you the same as ever, but I'll receive a small commission to keep the blog running. Thanks for your support!
When you're expecting your first child, you read a million books on the subject because you're nervous and you have no idea what you're doing and you want to do everything right. When you're expecting your second child, you might glance at a couple of dog-eared pages, but you're pretty sure you've got this because you've done it before and, although you might not be an expert, you're a lot smarter than you were the first time around.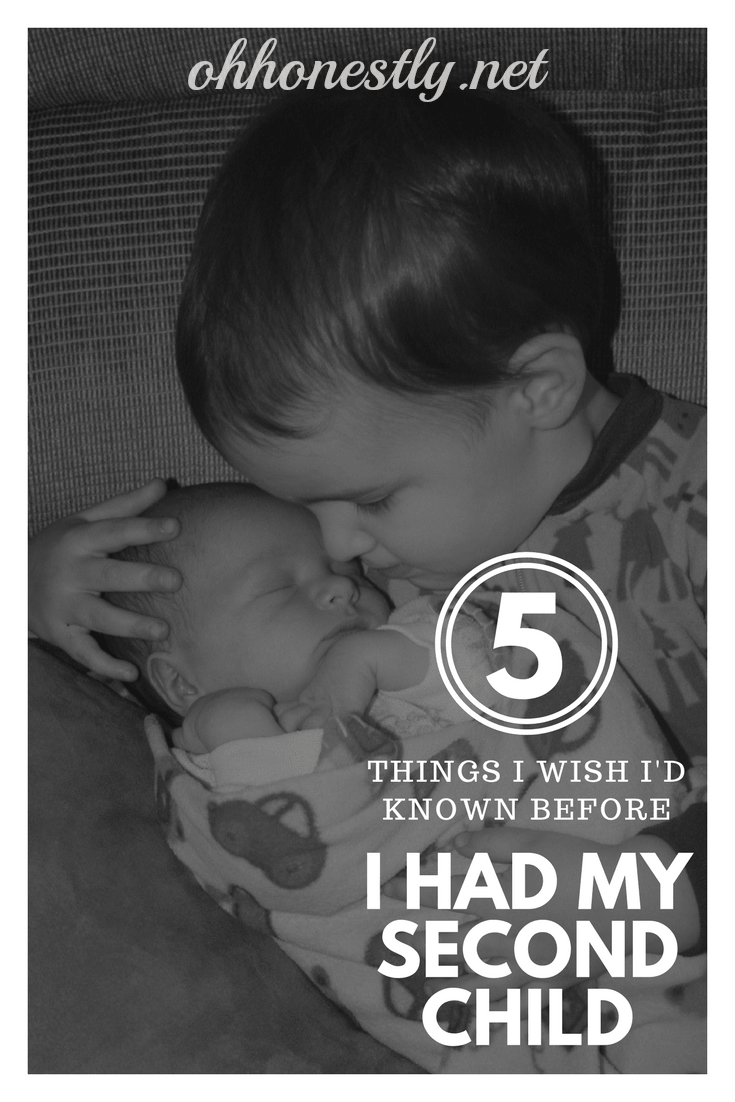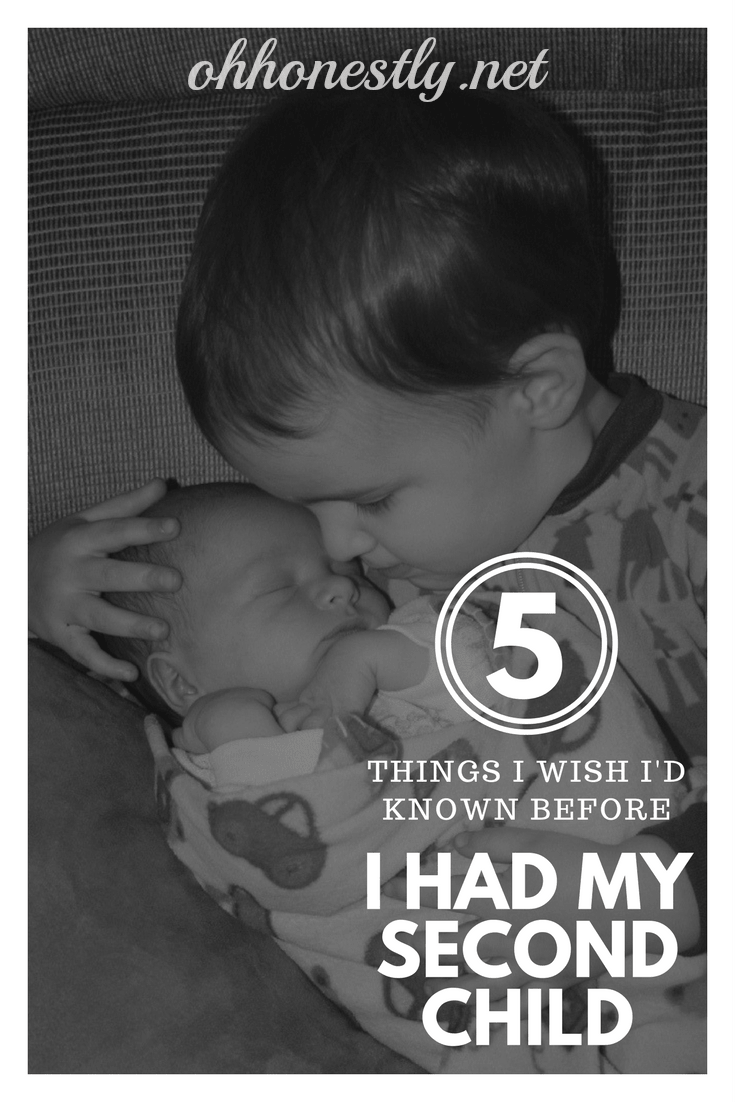 There are, however, some things I wish I had known, but didn't, before I had my second child. So if you're expecting Baby #2, here are just a few things the books won't tell you.
Five Things I Wish I'd Known Before I Had My Second Child
1. You're not a horrible person if you're disappointed when you find out the gender
When I went to bed the night we found out we were having another boy, I sobbed (but silently because I couldn't let my husband know what a terrible mother I was!). It wasn't that I had my heart set on a girl as much as that I was worried about how it would change my relationship with my oldest. It only took a few days, though, before I had adjusted to the news and started getting excited about having our second son.
Bottom line: You're not a terrible mom for feeling let down. You might be a terrible mom if you never get over your disappointment. And you're definitely a terrible mom if you tell your kid that you wish she was a boy every chance you get. Not judging; just saying.
2. Your love for your second child might look different than it did for your first

The overwhelming love that slammed into me when we had our first child was unlike anything I'd ever experienced before. It was amazing and intoxicating and I naively thought it would be exactly the same way the second time around. When I didn't immediately feel that same staggering bond with our second, I felt worried and guilty. I finally realized that this time I already knew what a mother's love was like, so it didn't take me by surprise like it did with our first.
Bottom line: The bond might feel different this time, but you will absolutely love your second as much as your first. Sometimes, like when your first has thrown himself screaming on the floor in the middle of Target while your second sits in the cart like an angel, you'll even love him more than your first.
3. The things you think you did right with your oldest probably had nothing to do with you

I admit it; I thought my husband and I had really superb parenting skills. Then we had our second kid. It is shocking how different two kids in the same family can be.
Our first son nursed like a champ, but getting our second to even latch on was a nightmare of epic proportions (one hungry, screaming infant + one frustrated, bawling mother X thirty minutes every two hours = something I wouldn't wish on my worst enemy. Well, maybe that one chick, but not the rest of them.). Our oldest was talking in paragraphs by the time he turned two, and our second barely uttered a word until he was two. Our oldest never whined a day in his life; our second could win an Oscar with his theatrics.
I know this sounds like really bad news, but the converse is also true. Our oldest is a picky eater while our second will clear his plate and ask for more. Our oldest can be a little too cautious at times, but our second willingly takes risks.
Bottom line: Don't go into having Baby #2 thinking you know all of life's parenting secrets. Life has a way of laughing in your face and showing you who's boss. Hint: It's not you.
4. Buying identical clothing in different sizes is a really bad idea
I think it's weird when parents dress their kids in matching outfits, but I'm not just trying to get everyone to bow to my way of thinking (although clearly I'm right). No, this piece of advice has real, practical implications.
Imagine, if you will, a mountainous pile of freshly laundered clothing. You go to work folding the enormous stack, leaving the socks for last. Your husband's are easy to match; you bought him the jumbo pack of black athletic socks. Then you get to your sons' pile. You bought them both identical jumbo packs of white athletic socks in two sizes. Instead of easily grabbing any two and pairing them up, you now have to look at the sizes to make sure you're not pairing a 2T with a 4T. Trust me, I speak from experience.
Once you've completed this task, you begin to put the clothes away. You now have to unfold all the socks to see whose is whose. And all those cutesy matching outfits you force your kids to wear also have to be unfolded so you can peek at the size tags. A 15 minute task has just taken you an entire morning.
Bottom line: Do yourself a favor and assign each kid a certain color to wear. Better yet, when you and your hubby are divvying up chores, give him laundry duty.
5. There will be fighting, but there's a silver lining

My boys fight. About everything. Constantly. It makes me want to hide in my minivan with a pint of Chubby Hubby as my only companion or install a punching bag (for me, not them. Although maybe that would lessen the arguments… or strengthen their swing, so never mind, I'll keep the punching bag for myself.). However, I have found one consolation. Despite the non-stop fighting at home, when we're out in public, they are fiercely protective of each other.
One day I had carpool duty. The kids were yelling and laughing and having a grand old time until one of them made a joke about our younger son. He wasn't trying to be mean; in fact, if we had been home alone, my oldest probably would have made the same joke. But the fact that someone else was making fun of his brother did not fly. "YOU SHUT UP!" my oldest yelled angrily.
Outwardly I calmed the situation and informed everyone that kind words were the only ones I wanted to hear, but inwardly I was doing a happy dance.  When we got home I told my son how proud I was of him, not because of the words he used, but because he stood up for his brother instead of joining in the teasing.
Bottom line: It might seem like they'll never get along, but their love for each other will shine through in sweet and unexpected ways.
I could go on, but I'd love to hear what other moms with two or more would add to the list. What's your best piece of advice for moms who are expecting Number 2? And please don't tell them to stop at one. That ship has already sailed, and although there may be rough waters, they won't regret the trip!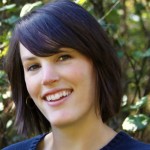 Lauren is a wife, mom of three, and the writer behind Oh, Honestly. She loves to share the real life joys and trials of motherhood so other moms will know they're not alone. She is also the author of The Words Your Kids Need: The Value of Writing to Your Children and How to Do It With Ease.