If this is your first time joining me for the Keeping It Real Challenge, click here to learn what it's all about.
Do you ever feel like a failure? I do. All. The. Time.
Did I have these feelings when I was younger? I'm sure I did, but I don't really remember now; probably because whatever I felt I was failing at ended up being inconsequential. That spelling test I didn't study for. The goal I made to keep my bedroom spic and span that only lasted three days. Things that didn't matter too much in the long run.
Now though, the stakes are higher. Now my failures aren't just getting B's on tests (yeah, yeah, I was one of those kids). Now when I feel like I'm failing, it's over things that could have lifelong implications. My kids. My husband. Our life.
I screamed at the kids. I made my husband feel more like a roommate than the love of my life. We had fast food for dinner. I gave in to a tantrum. I was too harsh. I forgot to do that one thing that Eric asked me to do. I spoke words that I wanted to snatch back as soon as they came out of my mouth.
I know that most of those are probably as inconsequential as the things I worried about as a kid. I have a husband and children who love me and forgive me regardless of my screw-ups (they even mess up themselves every once in a while 😉 ). Even so, more often than not I feel like I'm failing at everything that's important to me. It's a pretty crappy way to feel, but I think it might just be a by-product of being a mom.
[Tweet "Do you feel like you're failing at everything that matters too?"]
This week I have to come to you with my tail between my legs and tell you that I'm failing you too. Indirectly, but even so, I hate to not keep my word. I told you we were turning off the TV for the summer. That was our plan. I 100% thought we'd follow through. But we kept putting it off. And then of course the cable company was a pain in the rear. They wouldn't do a thing to help me, but Eric got them to lower our current rate. Which means we'll keep our TV/Internet bundle. Which means we won't cancel our subscription for the summer. There's no way we'll get that rate if we cancel and then resubscribe, even if we go to a different company. And it just doesn't make sense to cancel for the summer if it means we'll end up paying more in the fall.
So here we are, a couple of weeks into summer, and the kids are still watching TV first thing each morning and late in the afternoon while I cook dinner. The good news is that we've been keeping busy with other things most of the day. We're playing outside. We're visiting family. We're making the most of our summer vacation.
So maybe my lesson in all of this is 'Everything in moderation'. And maybe my other lesson is 'Stop beating yourself up'. Yes, I said we'd do something and then we didn't. Yes, I know I'll still feel like a failure for a million different things each day. But I am still committed to making this a summer full of fun and adventure and doing, not just sitting. So if you want to meet up at a playground or a beach or a walking trail, let me know. And if you can't get a hold of us ahead of time, there's a good chance we'll already be there, waiting for you.
And now the part of the post where I share pictures of our real, everyday lives.
The kids had a great time at the Great Maine Lumberjack Show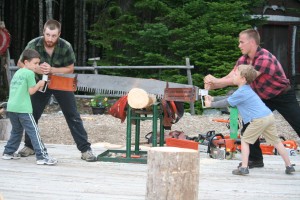 My patriotic girl on the Fourth of July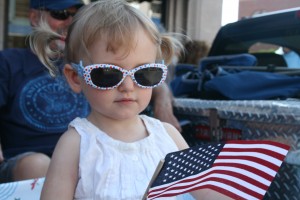 Could this be any cuter?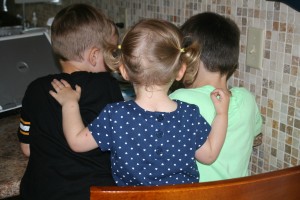 Who needs an expensive water park when you have a slide and a kiddie pool?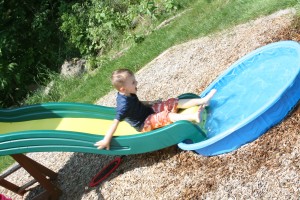 Have a great week and remember to keep it real!