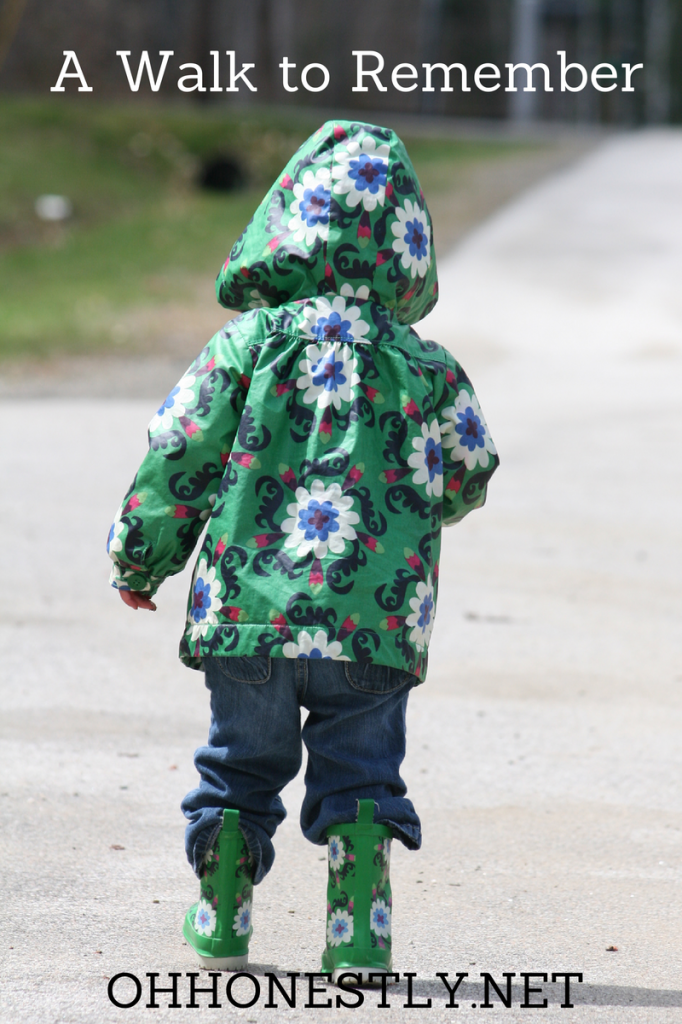 If this is your first time joining me for the Keeping It Real Challenge, please click here to find out what it's all about.
I like to go for walks with my kids. It gets us out of our house and yard and gives me the illusion that I'm getting some exercise while enjoying time with my children (I say illusion because really, how many calories do you burn when you're walking at the speed of a two year old?).
Before we leave the driveway, I imagine us all walking amicably, side by side, chatting about nature and life, laughing at little jokes, bonding in that sweet way that only family members can.
And then we actually go for the walk. And it sounds like this:
"Annelise, don't go past the crack! We're not ready to leave yet!"
"Eli, are you riding your bike or not? No? Then you can't leave it in the middle of the road."
"Samuel, put your helmet on! I know you have training wheels, but you have to wear your helmet on the road."
"Let's go!"
"Samuel, stay on the side!"
"Slow down Eli."
"Over on the side, Annelise."
"Samuel! Get on the side!!"
"Here comes a car. Everyone stop."
"Eli, walk!"
"Eli, walk!!"
"ELI, STOP RUNNING!"
"Aww, look! A chipmunk."
"Samuel, get on the side."
"Eli, don't grab your brother's bike like that! You'll knock him over!"
"Slow down boys!"
"Annelise, you have enough rocks. No more!"
"Let's go."
"Get on the side!!"
"Hello, neighbor I don't know. Please don't judge me for yelling at my children. I'm really a very nice person most of the time."
"Boys, wait for us!"
"Annelise, how about you ride in the wagon now? No? Okay, stop screaming. You can walk."
"Time to turn around and head back!"
"Samuel, stop at that mailbox."
"Samuel, did you hear me?"
"SAMUEL! Stop. At. That. Mailbox!"
"Hello, other neighbor I don't know. You're probably just squinting because it's really sunny today and the only thing running through your mind is if you're going to be late for your appointment, but I feel that stare and impatient scowl as a direct assault on my crappy parenting skills. Well you know what? Your dog barks too much."
"Samuel, you're in the middle of the road. Again. Get on the side!"
"Annelise, come on! Your brothers are getting way ahead."
"Boys, wait!"
"Boys, slow down!"
"Boys, STOP NOW!"
"Oh finally. Our house! We made it."
I wonder why the neighbors don't like us…
And now the part of the post where I share pictures of our real, everyday life.
 We played a game at Little Fenway on Saturday. It was Eli's dream come true.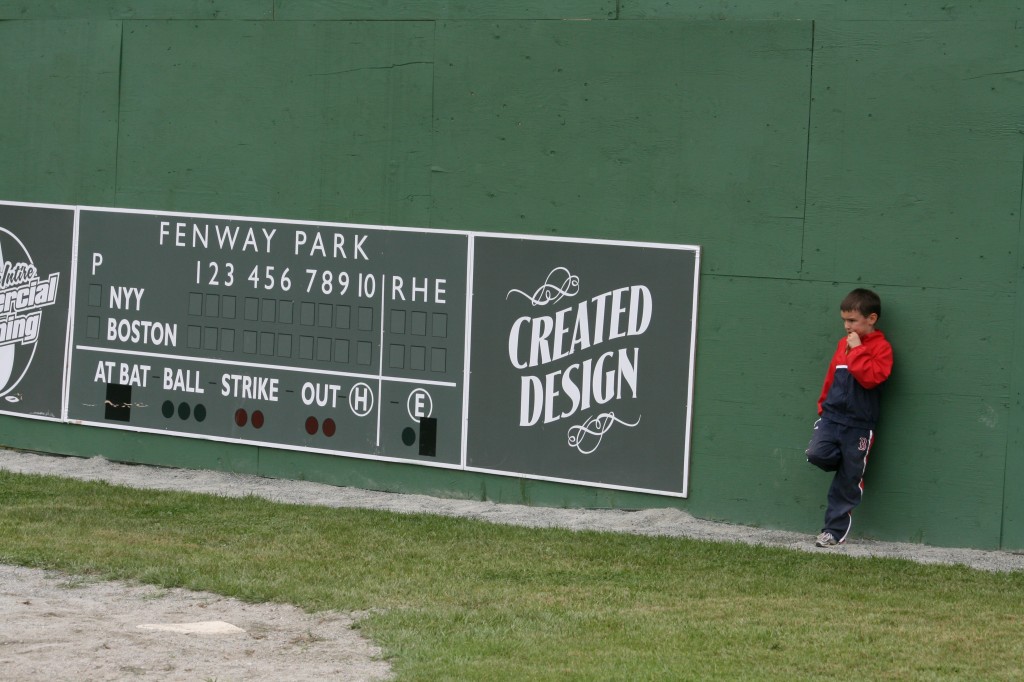 Annelise got in on the action too. She's pretty good!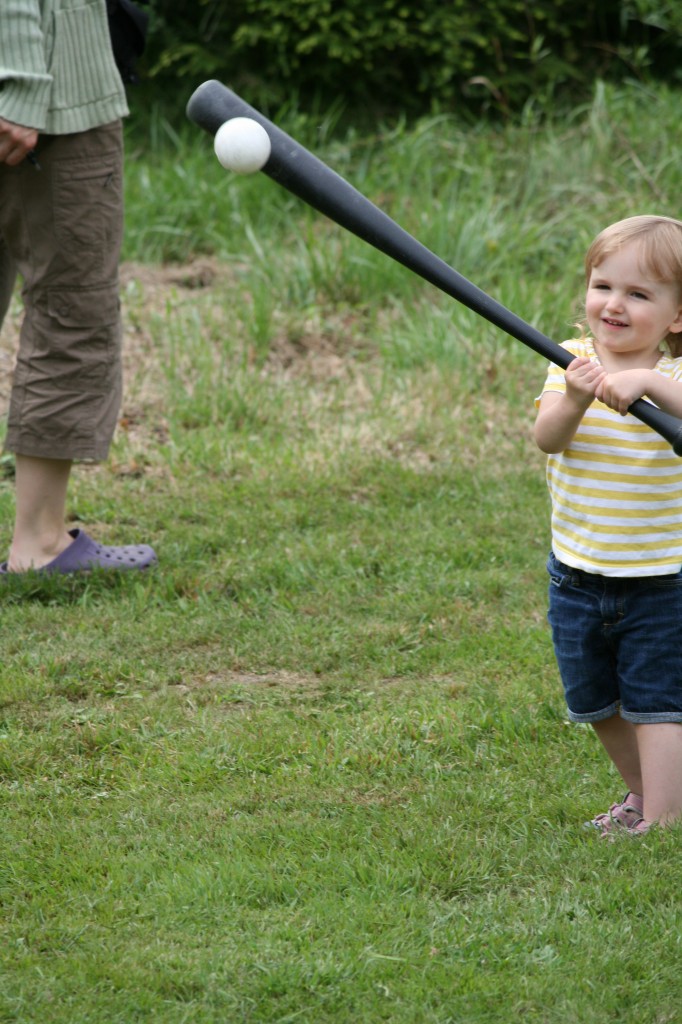 Believe it or not, I'm extremely thankful for this prickle bush. Samuel fell backwards off the rock and although it wasn't terribly far to the ground (maybe three feet), if the bush hadn't broken his fall, he could have been seriously injured. Instead, he survived with a few minor scratches. Praise God for bushes, even the thorny ones!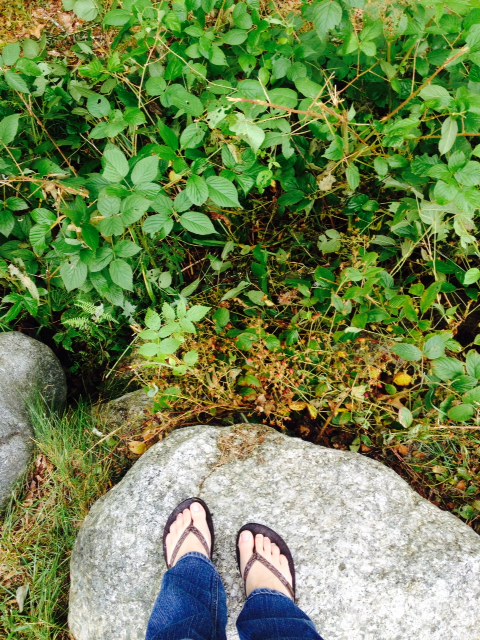 Have a great week and remember to keep it real!