What's your least favorite time of day? The morning rush, getting the kids up and ready for school and yourself up and ready for work? The mid-afternoon lull, when you have three more hours before you can go home, but all you want to do is take a nap? The bedtime routine, fighting tooth and nail to get the kids to stay in bed so you can relax for a little while?
For me, the hands down winner is that time right before dinner. It usually goes something like this:
4:25 pm: Look at the clock. Realize Eric will be home in about an hour and I have no idea what to make for dinner. Sigh.
4:30 pm: Give the kids some crackers to tide them over. Open the fridge to see what's in there that I might be able to make into something dinner-ish. Sigh.
4:40 pm: Fold some laundry.
4:50 pm: Look in the pantry to see what's in there that I might be able to make into something dinner-ish. Sigh.
5:00 pm: Pull some ground venison out of the freezer and thaw it in the microwave. Fry it in a pan and add some sauce. Boil some pasta.
5:30 pm: Eric arrives home. "What's for dinner?", he asks. I reply, "Noodles and sauce… again."
(Alternate endings include: "Chicken and rice… again." "Homemade pizza… again." "I DON'T KNOW!!!!!!…. again!")
Clearly, my problem is poor planning. In the rare instances in which I've created a meal plan ahead of time, I don't approach 5:30 with dread. But those instances are few and far between. Creating a meal plan requires looking through recipe books, making a menu, and writing an extensive shopping list so that I have all necessary ingredients on hand. This takes a decent chunk of time and I just haven't made it into a habit. So when I learned of a company that does all that for you, I was intrigued. And when I had the opportunity to try out a subscription from that company in exchange for writing a review, I jumped on it.
Let me give you a quick run down of how it works. The company is called eMeals™ and you can find them at emeals.com. Signing up is a breeze. Choose your plan (options include Classic, Paleo, Low Fat, Slow Cooker, and a bunch more… 13 in all!), choose your family size ('For 2′ or 'Family', which serves 3-6), choose your store (the only store options available in Maine right now are Walmart and Target, but you can also choose 'other' and your shopping list just won't be customized… more on that later), and choose the length of your subscription (3, 6, or 12 months). You also have the option of adding breakfast, lunch, and dessert plans to your subscription.
Once you're signed up, you'll receive a weekly email with your plan for the week. You can also access your plan on the website or the mobile app. The plan includes seven meals including side dishes (yay, we're not eating broccoli every night anymore!), the recipes for each meal, and (my absolute favorite part!) a detailed shopping list.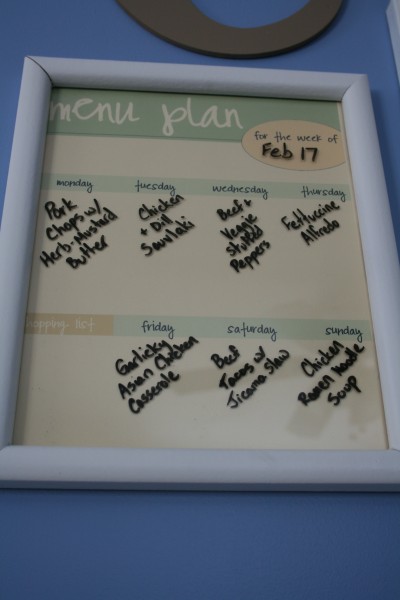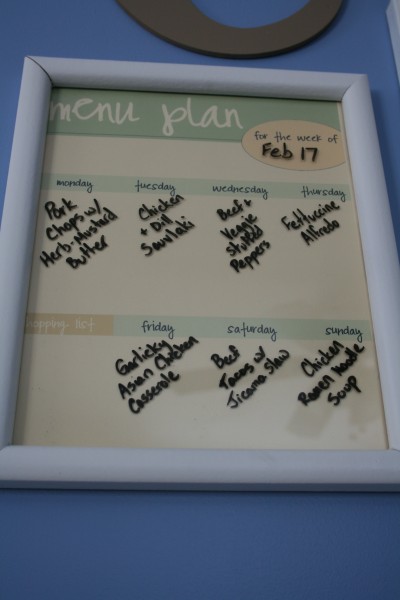 Our Meal Plan This Week
We've been using eMeals™ for about a month now and I have to say, I love it. I love having a plan for the week before the week has even begun. I love knowing at 4:30 pm exactly what I'm doing for dinner that night. I love love love (LOVE!) the shopping list. Let me describe it for you because it's so wonderful. First, it breaks everything down by store department (refrigerated, produce, canned and packaged, etc) which saves a ton of time because you don't have to keep bouncing from one section of the store to the other. Second, it tells you which meal each ingredient goes along with (so if you're not making Meal #6 that week, it's easy to cross off all those ingredients). Third, if you've chosen a specific store, it tells you the price of the item. Fourth, it tells you exactly what size of each ingredient to buy (how many times have you written down what you need to get and returned home to find out you bought the right thing, but not the right amount of it?). Seriously, the shopping list is a thing of beauty. I'd subscribe to eMeals™ just for that.
But as an added bonus, the meals are good too. We tend to stick to the same things over and over again, so this has been a nice change of pace. We're trying new things, finding new favorites, and yes, deciding that some are not 'make agains', but I never expected to like every recipe anyway. The majority of them, however, have been delicious. I've also been pleasantly surprised with how many of the recipes have been okay for Samuel, who has a dairy allergy. I've had to tweak some here and there, and there have been a few that he just couldn't do, but most of them have been okay.
My only real struggle with the plan has been that many of the recipes have been of the variety that my most picky eater (I won't name names) doesn't want to even try them. This is par for the course at our house unfortunately. He'd live on pizza and chicken nuggets if we let him, and getting him to try new foods is a struggle and a half. I knew going into this that he would be the least excited of our family of five, but I remain hopeful that as we expose him to new foods, his palate will expand. I know mine already has… go ahead, ask me about bok choy!
All in all, I have been more than happy with eMeals™. My pre-dinner stress levels are at an all-time low and that alone is worth it's weight in gold. Luckily, a subscription is quite inexpensive and if you're interested in signing up, use code DINNER15 to receive 15% off.

Disclosure of Material Connection: I received one or more of the products or services mentioned above for free in the hope that I would mention it on my blog. Regardless, I only recommend products or services I use personally and believe will be good for my readers. Some of the links in the post above are "affiliate links." This means if you click on the link and purchase the item, I will receive an affiliate commission. I am disclosing this in accordance with the Federal Trade Commission's 16 CFR, Part 255: "Guides Concerning the Use of Endorsements and Testimonials in Advertising."