Disclosure: This post contains affiliate links. If you decide to go against everyone's advice and buy that piece of baby junk: 1. Don't say we didn't warn you. 2. I'll receive a small commission on any purchase you make when you use my link. So don't do it, but do do it… for me 😉
I'm ridiculously excited to introduce you to my new series:
I Asked, You Answered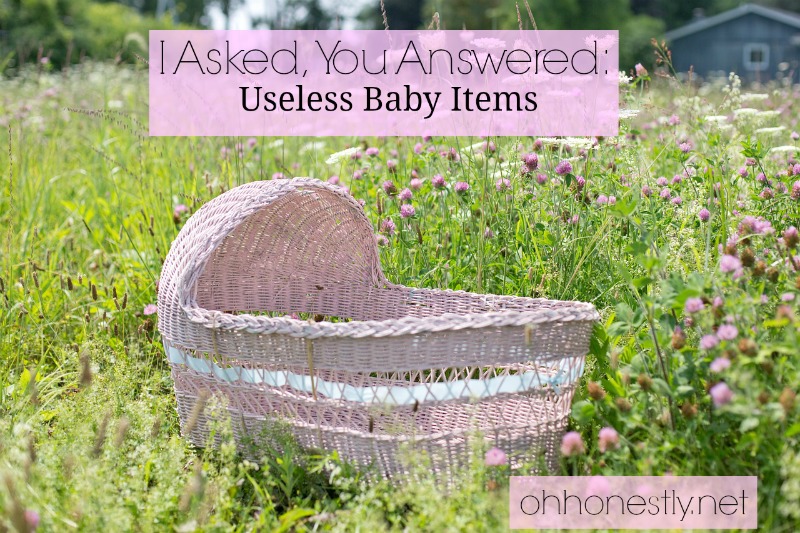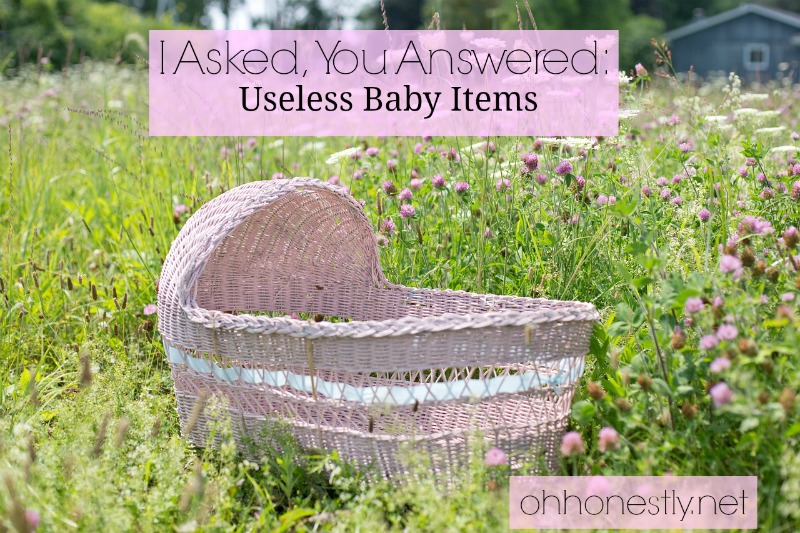 This Week's I Asked, You Answered: Useless Baby Items
Want to know what I'm so excited about? You don't have to read my ramblings!
This blog has always been about our shared experiences and how we're all more alike than we realize. But obviously since I'm the one running it, I'm the one you hear from over and over. Well, this is my attempt to change that a bit.
Each week I'll pose a question in my email newsletter. If you're a subscriber, you'll have a chance to send me an answer. Then I'll feature the question and answers in a blog post each week.
If you don't receive my newsletter, go sign up! If you do, make sure you check out the question and send me your answers. This won't work without your help.
Since this is the first week of I Asked, You Answered, I opened up the question to a wider audience and the response was amazing!
In case you missed it, the question was:
What's the most useless baby item you own/owned?
The top three answers were:
"The most useless item I had was a wipe warmer. First, I live in South Florida where you need a wipe air conditioner. But for those 24 to 48 hours you might need one, it was not worth the electric power it took to operate it. If I remember correctly it burnt up the first week." -Jennifer V.
"The most useless baby item I had was a wipe warmer. We would keep that thing plugged in 24 hrs a day so the wipes would be toasty warm on demand. But then, once you pull the top most wipe out you have less then 2 seconds to get that toasty warm wipe on the tiny wiggly little butt before it completely cooled off to room temperature! Totally useless. It was a gift from my mother in law…her words exactly were 'I just don't like to think about using those cold wipes on her in the middle of the night, the poor thing.' Our poor neglected second child gets his wipes straight out of the the generic brand package." -Emily T.
"I made a short list then asked my daughter who's youngest is 2 yrs old. We both said the same thing first… bottle warmers… home and auto versions!" -Carolyn D.
"The bottle warmer. We traveled quite a bit and if baby wanted to eat, it would be lukewarm or cold." -Emily M.
"I found the diaper pail to be absolutely useless.  If the truth be told….leaving poopy diapers sitting in a pail in any room of your house is just plain gross!  The attempt to cover the smell with a stick of air freshener was nothing but futile. I got into the habit with my first son (and continued with my second) that I would either walk the diapers out to the outside can immediately or wrap them in a grocery bag and set them on the back porch." -Karly H.
Wondering what else to leave off your baby registry? Check out the extensive list of answers in this Facebook post. It's a goldmine of information and comedy.
The next question has already been sent out, so if you're just signing up for the newsletter, shoot me a note (lauren@ohhonestly.net) or let me know in the comments or on Facebook and I'll send you the question for this week. It's a good one!