The ProNamel® brand has compensated me in connection with statements made in this post.
He stands in the outfield, mitt at the ready, while his sister and I sit on a blanket in the grass a short distance away.
It's a beautiful, sunny day: perfect for baseball. I dole out crackers and point out the dandelions that are right beside our blanket in a vain attempt to keep a two-year-old occupied so that I can watch some of her seven-year-old brother's game.
As I glance up from the cracker box, I notice him trotting over to his coach, hand near his mouth. "Did he get hit with the ball when I wasn't looking?" I worriedly wonder. I don't have to contemplate for long as he turns and heads my way, hand clasped in an upturned fist, excited smile on his face.
I stand to meet him and as he draws near he calls out, "My tooth fell out!"
I squeal in delight. This is a moment to celebrate. He turned seven just a few days ago and is the last one in his class to lose a tooth. We noticed this one was loose months ago, but he hasn't taken the aggressive approach when it comes to wiggling, preferring instead to let nature take its course. All of our offers to 'help it along' have been met with an immediate and emphatic "NO".
The game carries on behind us as he swishes water around in his mouth, then I pull out my phone to take the first picture of his new smile. He gives a quick recap of how it happened, then hands me the tooth for safe-keeping and jogs back out to the field.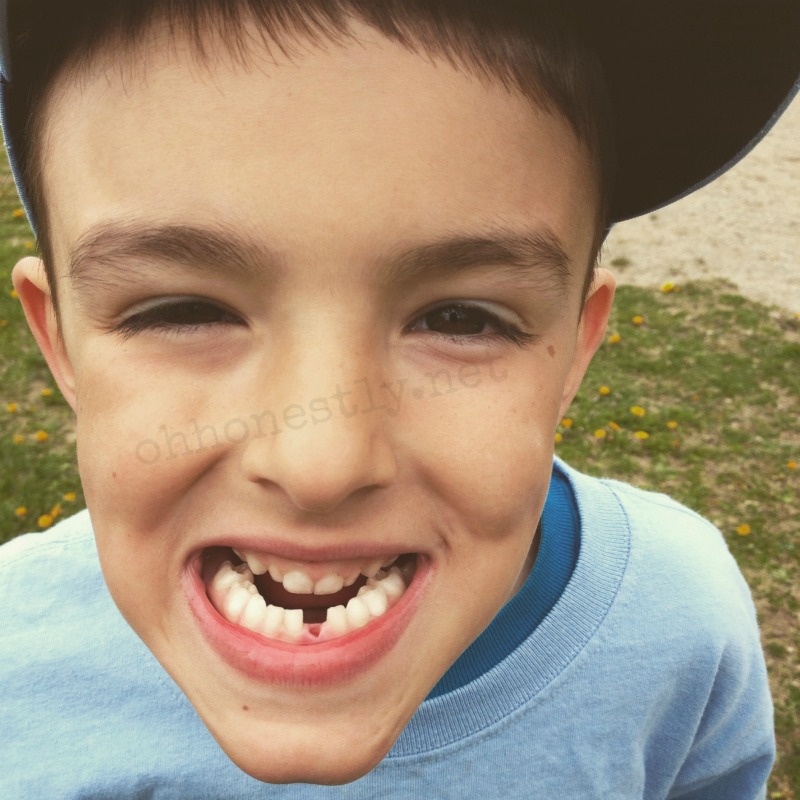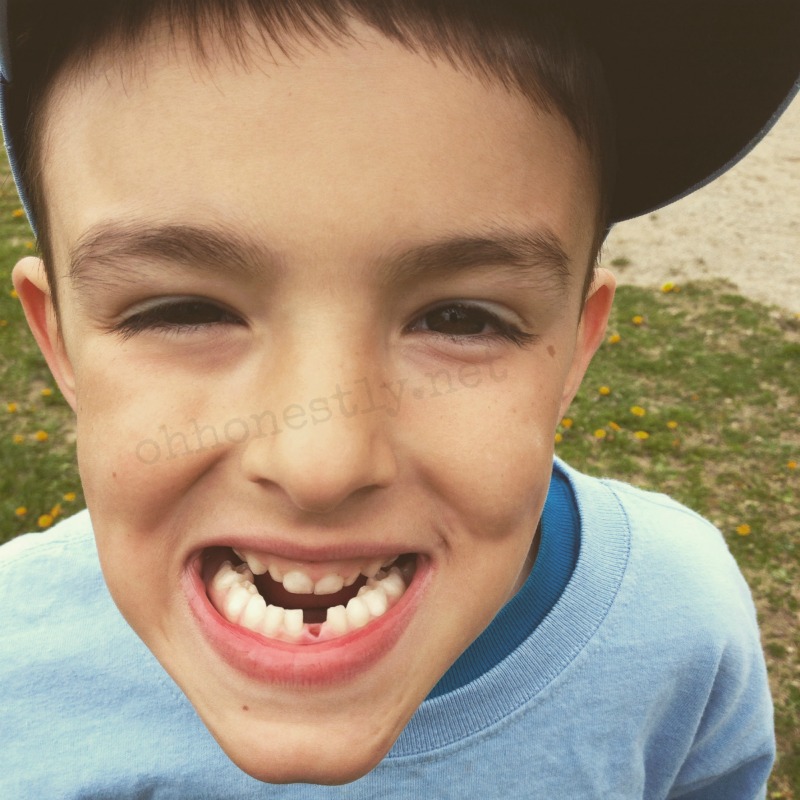 I smile at this rite of passage as I pocket the tooth, thinking about how we should celebrate.
Four Simple Ways to Make Losing Baby Teeth Extra Special (Tooth Fairy Optional)
I've always been a fan of milestones. First steps, first words, first days of school. I like to document them and make them special.
On the flip side, I'm not a fan of stress, so my idea of special is not big, over-the-top parties or time-consuming Pinterest projects.
I love traditions, like our annual Easter Egg Hunt or our yearly search for the perfect Christmas tree, so when I think about making milestones special, I try to come up with ideas that we can do for each of our three kids that they'll remember and want to pass on when they become parents some day.
With that in mind, I decided to come up with some special (and simple!) ideas to celebrate the loss of our kids' baby teeth.
These ideas are something you can do in addition to the Tooth Fairy or without her (we don't even do Santa. You can read about that here.). I hope you find one or several that you can incorporate into your celebrations!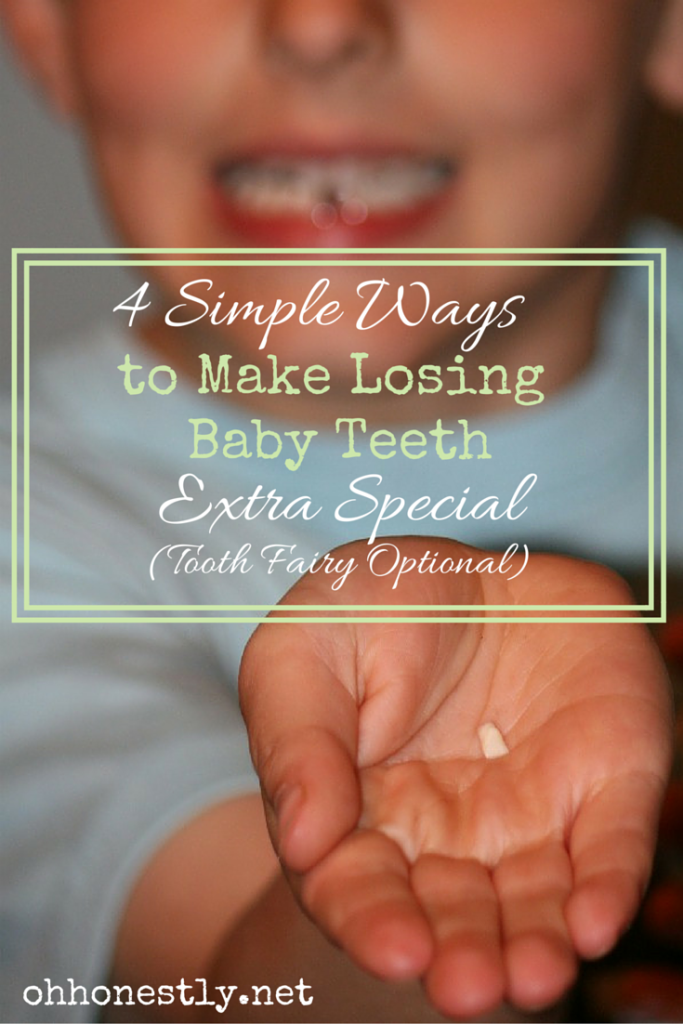 1. A themed dinner
Make dinnertime all about your child with a simple, themed supper:
Cheese pizza: So your family can show off their cheesiest grins.
Milk: This just seems like the quintessential 'strong teeth and bones' drink (source). You can always sub in almond, soy, or whatever other kind of milk you like to drink.
Apple smiles: Be sure to remove a 'tooth' from the guest of honor's smile.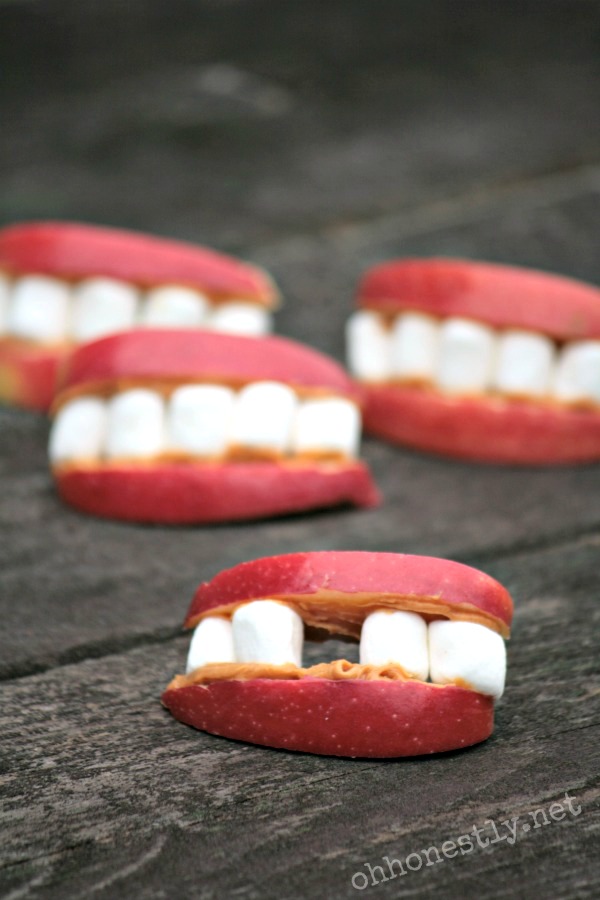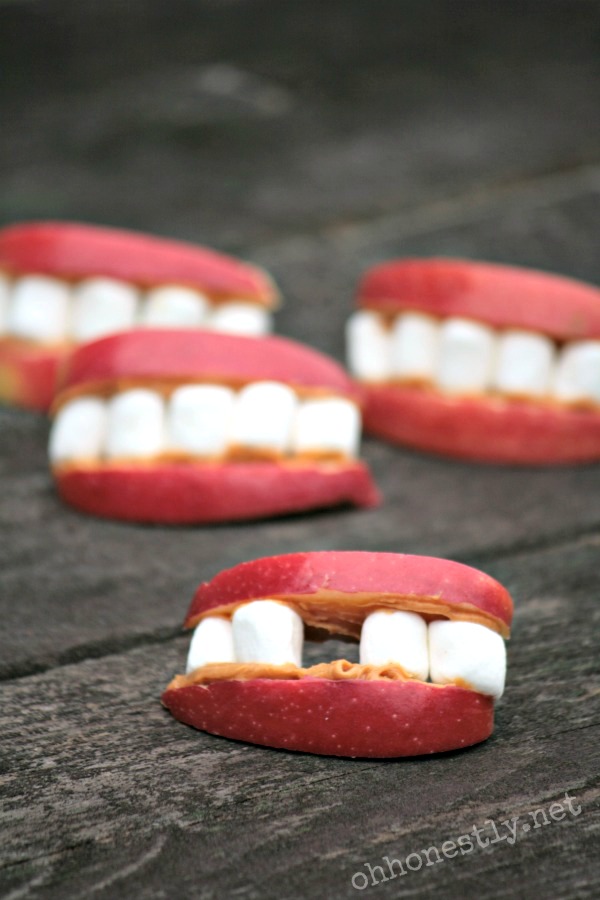 2. A special tooth book
You can make this treat into a trip to the bookstore or library, or if you already have a tooth book, just make a plan to read it the night that your child loses his tooth. What do I mean by a tooth book? A book about teeth, of course! Here are a few suggestions:
"One Morning in Maine" by Robert McCloskey (My absolute favorite, probably because I grew up on the coast of Maine, but a great book about losing a first tooth whether you've been to Maine or not!)
"The Tooth Book" by Theo LeSieg and Joe Mathieu
"Throw Your Tooth on the Roof: Tooth Traditions from Around the World" by Selby Beeler and G. Brian Karas
"Junie B.: Toothless Wonder" by Barbara Parks
3. A new 'grown-up' toothpaste
Growing grown-up teeth calls for getting grown-up toothpaste. Now that your child will have permanent teeth coming in, it's important to protect those teeth right from the get-go especially when setting a routine for back-to-school.
Get your child excited about it by presenting them with their very own tube of Pronamel® 6-12 Years Toothpaste for Kids which is specially designed to protect the precious enamel that is at its softest when those secondary teeth first come in. (Coupon available here.)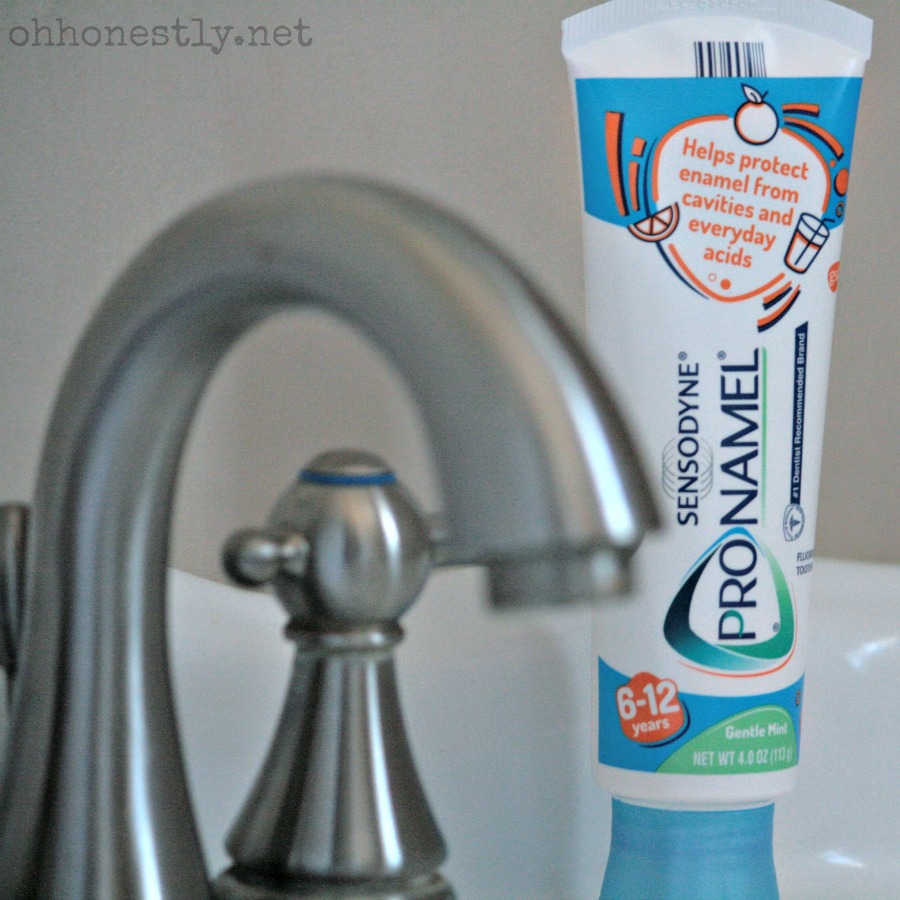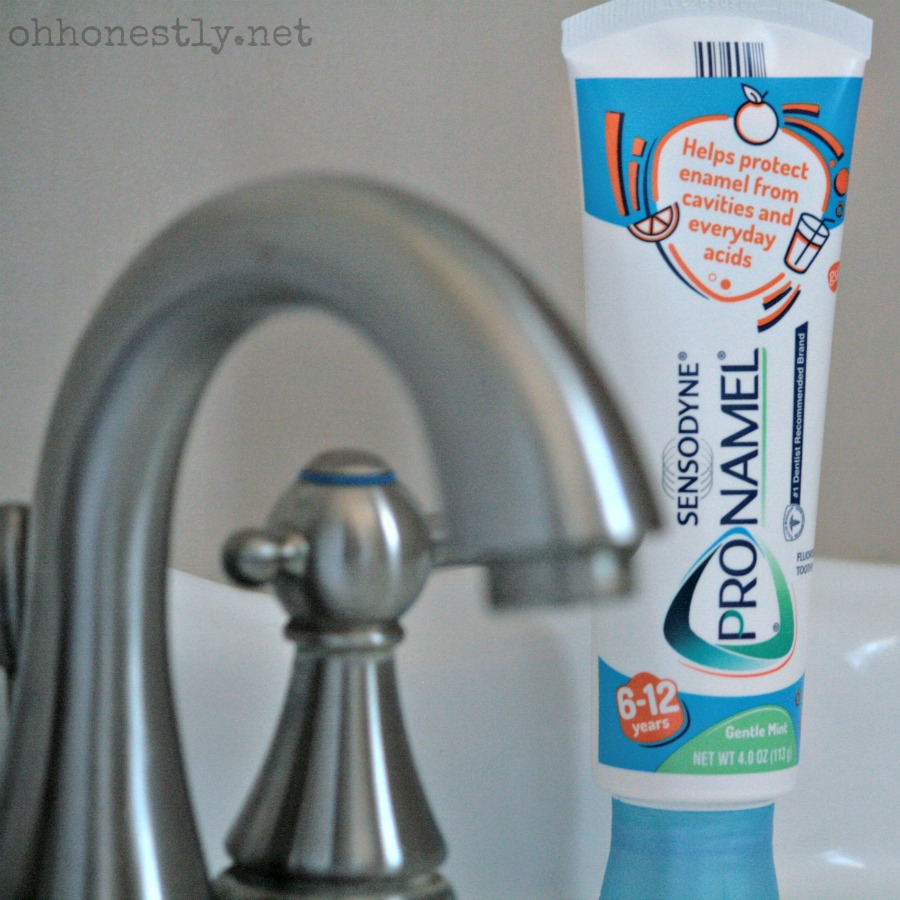 Maybe you're rolling your eyes at the idea of new toothpaste being exciting, but my kids love stuff like that, so if yours are anything like mine, they'll love it too… especially if it's accompanied by a cool new toothbrush 😉
4. A (slightly) later bedtime
Let's not go crazy here; your six-year-old still needs plenty of sleep and you still need to unwind after a busy day.
That said, losing a tooth is a sure sign that your baby isn't such a baby anymore, so a slightly later bedtime, even if it's just the night of the big tooth-losing event, is a fun way to celebrate.
In fact, it might be a good idea to only make it that one night so that it's something your child looks forward to every time he loses a tooth!
Hopefully these ideas have made you realize that a celebration that's both simple and fun is actually possible. Which ones will you try? Tell me in the comments and you will be entered to win a $100 Visa gift card!
Entry Instructions:
No duplicate comments.
You may receive (2) total entries by selecting from the following entry methods:
1. Leave a comment in response to the sweepstakes prompt on this post
2. Tweet (public message) about this promotion; including exactly the following unique term in your tweet message: "#SweepstakesEntry"; and leave the URL to that tweet in a comment on this post
3. Blog about this promotion, including a disclosure that you are receiving a sweepstakes entry in exchange for writing the blog post, and leave the URL to that post in a comment on this post
4. For those with no Twitter or blog, read the official rules to learn about an alternate form of entry.
This giveaway is open to US Residents age 18 or older (or nineteen (19) years of age or older in Alabama and Nebraska). Winners will be selected via random draw, and will be notified by e-mail. The notification email will come directly from BlogHer via the sweeps@blogher email address. You will have 2 business days to respond; otherwise a new winner will be selected.
The Official Rules are available here.
This sweepstakes runs from 9/13 – 9/30
Be sure to visit the ProNamel® brand page on BlogHer.com where you can read other bloggers' posts!
Sweepstakes is in no way sponsored, endorsed or administered by ProNamel® or GlaxoSmithKline Consumer Healthcare