Today I'm bringing you an Oh, Honestly first: I'm combining my #ONENEWFOOD and Keeping It Real Challenge posts because… well, because trying our one new food this week was most definitely a Keeping It Real moment.
Kristen and I promised you that we'd share healthy recipes each week to go along with our #ONENEWFOOD and you will find several fish recipes below. We also promised to share helpful tips on how to get your kids to eat new foods. Consider this week's tips What Not to Do.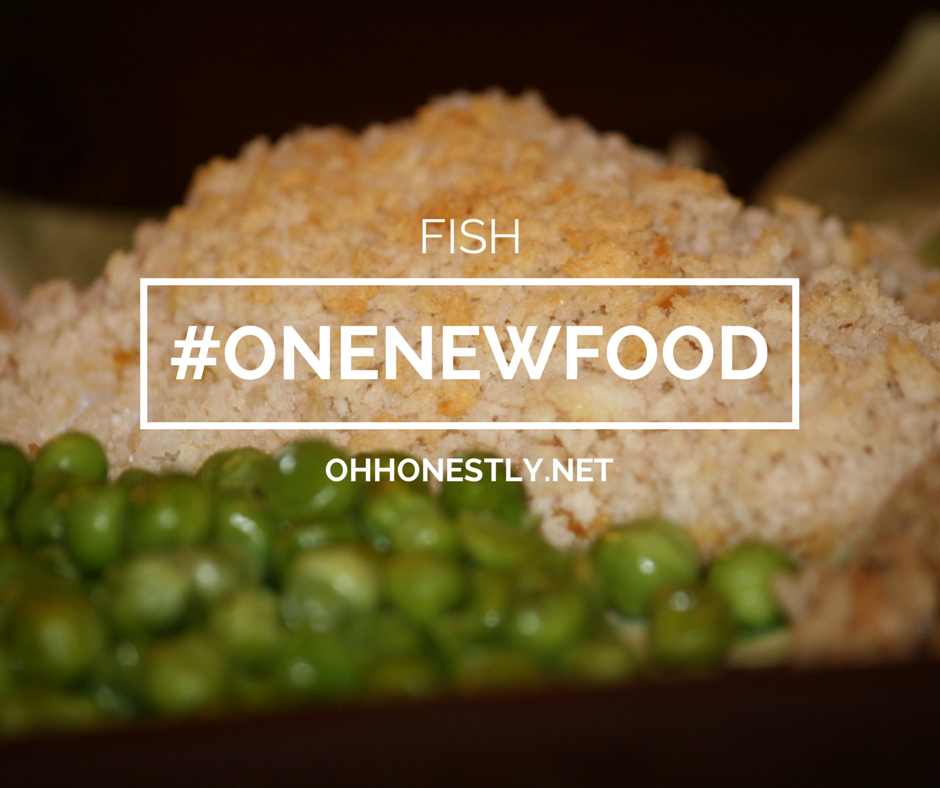 One New Food: Fish Recipes
Okay, here's what not to do:
Buy a food you despise and that your kids know you despise.
Serve dinner really late, like almost bedtime late, and don't allow the kids to eat anything beforehand because you want them really hungry when they have to try their new food. (For the record, I don't think that last part is such a bad idea on its own. It's just when it's coupled with the first part that it becomes problematic.)
Forget that really hungry and really tired also means really grumpy.
Make them turn off a show they're watching right in the middle of it because dinner is finally ready.
Get annoyed when they don't come to the table immediately, and make not-so-veiled threats at them.
Finally get them to the table only to have the youngest throw her plate of food in protest.
Flip out.
Put the youngest one in time out.
And yell.
A lot.
Pretend you're a happy, calm individual while filming the kids trying their one new food instead of a frustrated bundle of nerves.
If you prefer tips on what to do, I suggest reading this great article, The 17 DOs and DON'Ts of Picky Eating, and please don't compare me to the list as you read 😉
Fish Recipes
Well, the recipe I used seems to have gotten lost in Pinterest-land, but it was really easy: I spread Dijon mustard on the haddock and then coated the fillets with panko bread crumbs and baked them for 15-20 minutes at 350. Eric liked it, the kids didn't, I was just Eh. In hindsight, a recipe that masked the fish flavor as much as possible would have been best. Next time (yes, there will be a next time!) I'll try one of these:
 Tomato Herb Flounder from Paleoly. Flounder is low on fishiness and high on nutrition. That's a good combo!
Grilled Tilapia with Cherry Salsa. I've heard that tilapia isn't the greatest fish for you, but I bet you could sub it out while making this recipe from Martha Stewart.
Salmon Cakes from Keeper of the Home. So I'm a bit skeptical of the nutritional value in these, but if the kids like them, it might move us into new fish territory a little faster.
As always, you can find all of the recipes I share on my #ONENEWFOOD Pinterest board. While you're there, why not follow all of my boards?
This Week's One New Food Feature
Kelly captioned this photo of her daughter Maren with, "#ONENEWFOOD!!! First green food ever besides gummy bears, popsicles and lollipops!!"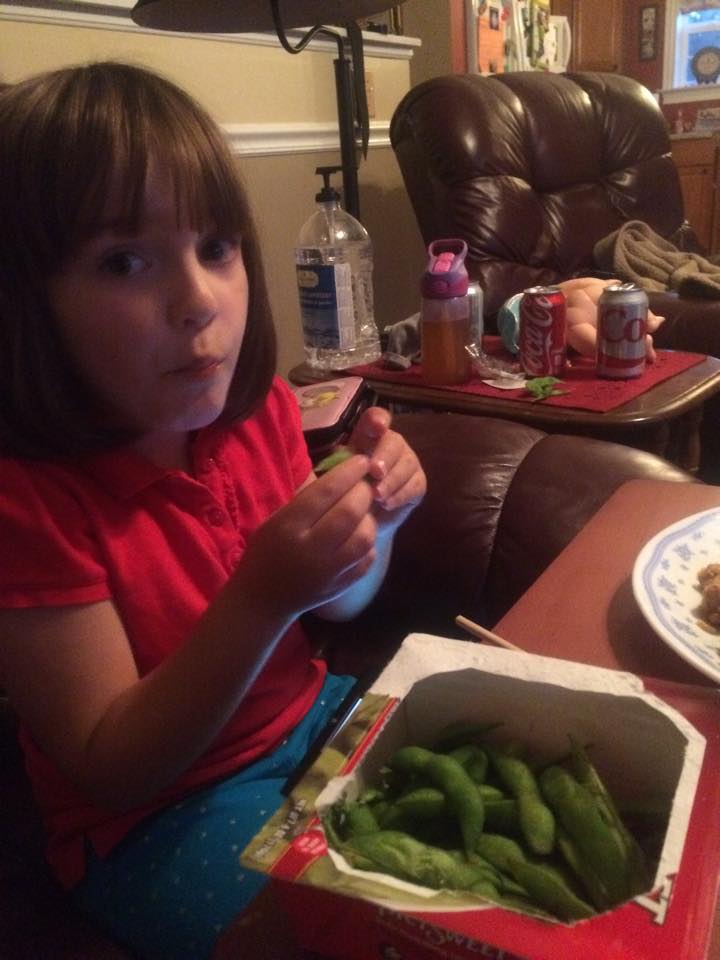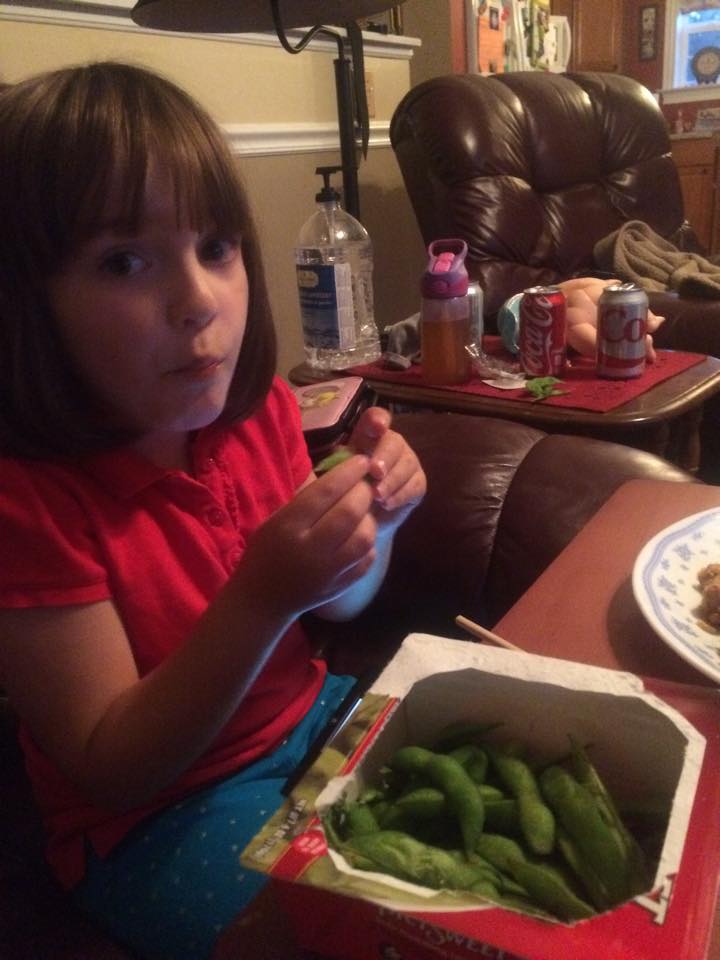 From gummy bears straight to edamame?? I'd call that a #ONENEWFOOD win! Thanks for sharing with us, Kelly!
Do YOU want to be featured? Tag me and Kristen on Facebook, Twitter, or Instagram and use the hashtag #ONENEWFOOD. Please please PLEASE remember to set the privacy settings to public OR post it directly to our pages. And keep an eye out for details… we have prizes in the works for our future featured friends!
[Tweet "Want to be featured? Join us for #ONENEWFOOD. Maybe you'll even #win a little something! @Oh_Honestly_LC"]