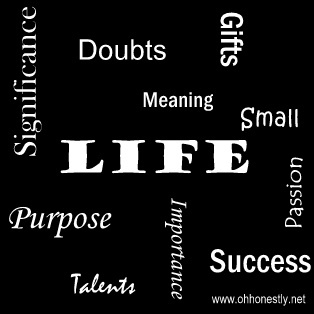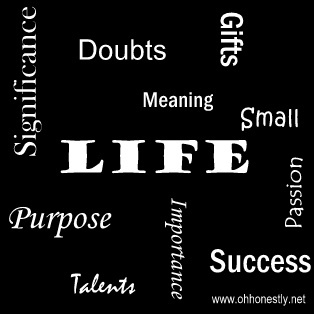 How would you describe yourself? I've always hated that question because I've never known how to answer it. I'm a stay at home mom. I'm tall. I'm an introvert. These are all true and all a part of it, but do they really describe me?  If I'm honest, the word that always pops into my head as the most truthful description of myself is boring. Always have been. Always will be.
It's not entirely a bad thing. I've come to realize that there is blessing in boring. Back in high school I might not have agreed; sitting at home on Saturday night, watching Walker, Texas Ranger with my parents, and wondering what it would be like to party with the popular kids. But with time comes perspective. Often the lives that are most interesting end up being full of the most unnecessary heartache.
Still though, there's always been something nibbling at the edges of my mind, occasionally jumping to the surface to shout, "Your life is small! Insignificant." My rational brain tells me that raising three children is anything but insignificant, but I keep wondering; isn't there something more? Shouldn't I have more to give? And in order to give, don't I need a gift?
Which leads me to that other question I've always had a hard time with. What are my talents, my gifts? I absolutely believe God has gifted each of us with particular strengths, but each time I hear that question I wonder what mine are. For some people it's obvious. They are gifted speakers or amazing artists. They have a knack for business or a mind for engineering. For me though, the answer goes right along with how I describe myself. Yes, I am good at some things, but nothing in particular stands out. I'm a decent teacher, have an adequate sense of humor, am mildly successful at the projects I tackle. Boring. No particular gift to give.
Until the question was rephrased.
One Sunday a couple of years ago our pastor asked us, "If you could do one thing and know you would succeed, what would it be?" I was surprised to discover that I immediately had an answer. I would write. Not necessarily because I have a talent for it, but instead because I have a passion for it. If you asked me what I wanted to be in second grade, I would have said an author. And now, nearly 25 years later, the answer is the same. Perhaps this dream that has been brewing in my heart for so long was placed there by the One who created both me and my talents.
So I took a leap of faith and began to write. After a couple of months, I finally worked up enough nerve to share my writing with family and friends. Surprisingly, the reaction was overwhelmingly positive and their response gave me the confidence to continue. My writing is not wildly popular. I don't have thousands of people hanging on my every word. I may never become what we Americans consider successful. But that's okay.
Recently Nicole, who follows my blog, sent me this message:
"You have no idea how many times over the past 2 months you've put a smile on my face. Our son passed away in January and sometimes when I'm mindlessly scrolling through Facebook for anything to think about, a silly little story about Eli, Samuel, or Annelise… or even you and your husband… gives me a smile. For that, I thank you."
As I read her words, I was completely humbled. Here is a woman who is going through the most horrific pain a mother can experience, and I have been able to make her smile. That was when it dawned on me. I do have something to give. If my passion for writing has been leading to this one point, that I can make a grieving mother smile, then it will all be worth it.
My life may always be small and boring, but I'm okay with that. I have been created with passion and gifts, and I will do my best to fulfill the purpose for which God has created me, whether it be in ways big or small. Because I finally get it:
A life, however small, is never insignificant.
This post is part of the Messy, Beautiful Warrior Project. To learn more, click here. To learn about the New York Times bestselling memoir, Carry On Warrior: The Power of Embracing Your Messy, Beautiful Life, click here.