Disclosure: I received a product and compensation for this review. All opinions are my own and I would never recommend something I wouldn't use myself. My goal for this blog was, is, and will remain honesty.
I can tell you the exact moment I fell in love with Ruth Yaron's best-selling book Super Baby Food. I was sitting on the couch, flipping through the pages while simultaneously watching Person of Interest. I'd skipped over the chapters outlining what to feed your baby that first year since my baby is well past that stage (sob!).
Then I got to the section that tells you how to make fruit leather.
Boom. I was immediately transported back to fifth grade. And also to my third pregnancy. Those were the two moments in my life when I craved fruit leather. Have you ever had it? It's the more natural and way tastier version of a Fruit Roll-Up, but I never knew you could make your own! That was the moment I knew that this book was much more than just a baby food book.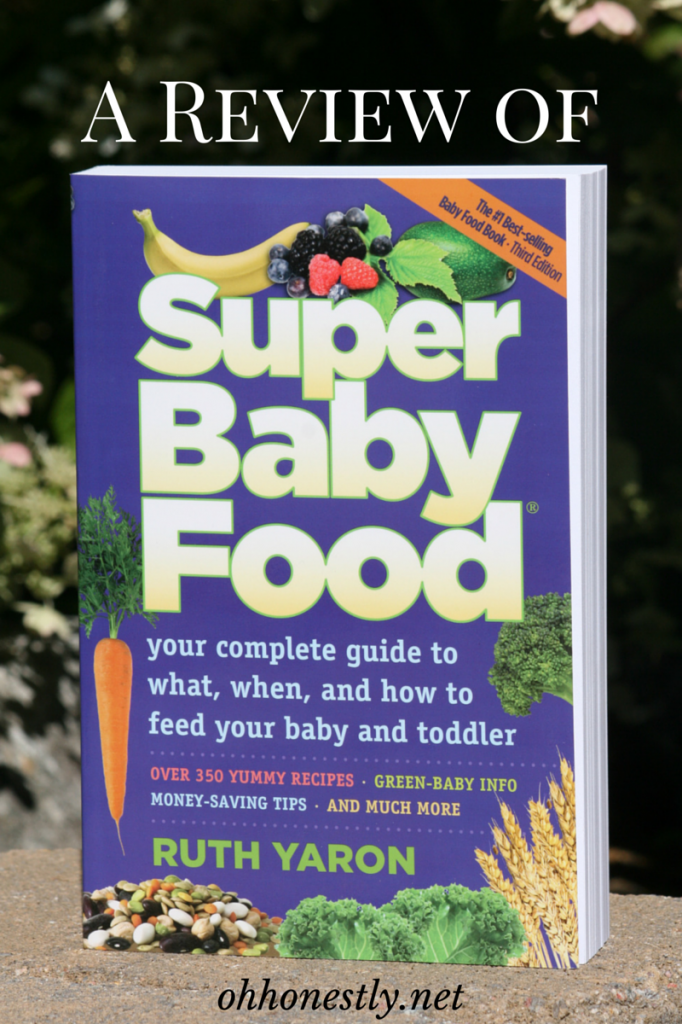 Super Baby Food
Super Baby Food is quite possibly the most comprehensive baby and toddler feeding guide I've ever seen. Ruth has come up with an entire feeding system that, if you follow it, pretty much ensures you'll have the healthiest kid around.
I'll be honest, when I first started reading it, I thought to myself, "There's no way I could do all this." My parenting methods tend to be pretty moderate and the thought of an all organic, all homemade diet is kind of exhausting. The beauty of the book, though, is that you don't have to do it all. Even if you only decide to put a bit of what you read into practice, you'll be making healthy choices for your child.
In case you're the parent of older children, ignore the next section and jump ahead.
Parents of Babies: Read this!
If your baby is almost ready for solids and you've been considering making some of your own food, I strongly encourage you to get a copy of Super Baby Food. You will be given recipes, a list of necessary equipment, helpful preparation tips, and a lot more. Since Ruth has put everything she writes about into practice, she also offers tips about what not to do, which can be just as helpful, or even more helpful, than the tips on what to do.
There are chapters that correspond to each month of a baby's life, so you'll know what to expect developmentally, as well as what and how much a child of that age should consume. If you like a very structured approach, this book will be right up your alley. If you prefer to be a bit more relaxed, it's still a handy resource that you can use as a guide.
Everyone: Read this!
Beyond the baby food aspect, Super Baby Food is chock-a-block full of helpful information. I found the chapters on fruits and vegetables to be very informative, especially since they describe how to pick out produce at the peak of freshness. I can choose strawberries without much trouble, but if I ever decide to buy a mango I'll have to check the book before I run to the store.
There are chapters on kitchen safety, hygiene, and nutrition. There's a section on how to make homemade household products (from bathroom cleaners to dishwasher detergent to furniture polish and more). Although the recipe section may be geared towards babies and toddlers, I'm pretty sure they're not the only ones who would like Quick Vanilla Ice Cream or Great Pumpkin Pancakes.
I said it before and I'll say it again, Super Baby Food is so much more than just a book about baby food. I'm excited to be giving away a copy to one lucky winner. If you have children of any age, I urge you to enter. If you don't have children, or if your kids are grown, Super Baby Food would make a great gift!
[Tweet "Super Baby Food: It's so much more than a baby food book. #Entertowin a copy with @Oh_Honestly_LC and @Super_Baby_Food"]
Enter below and be sure to come back on Friday when I use one of the recipes from Super Baby Food for our #ONENEWFOOD of the week!