Last week I shared tips for families who have food-allergic children on how to transition smoothly to school. This week I want to talk to families who do not have children with food allergies. Hopefully the following four insights will give you a peek into our world and a bit of food for thought. (I should point out that these are my thoughts on the subject. While I can't speak for every family who deals with food-allergies, I think most would agree. If not, please share your thoughts in the comments below!)
Four Things Families With Food Allergies
Want You to Know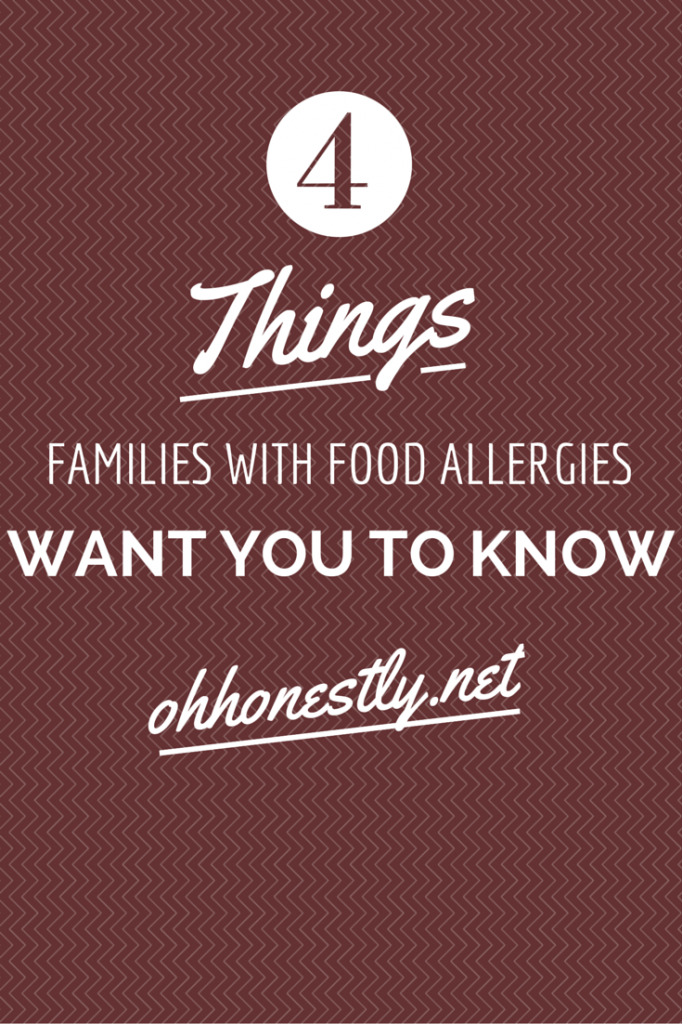 1. We're not just rude or overly paranoid
If we want to read the labels on the snack you brought to school or if we won't let our child eat your homemade goodie, it's not because we're trying to be rude and it's definitely not because we're just being paranoid.
My son's allergies are not severe. He needs to actually consume the food before he has a reaction. However, over the past four years I've read hundreds of food labels and I've learned that the foods he's allergic to show up in all kinds of things you might not expect, like bouillon cubes and lollipops (not that you'd bring a bouillon cube to school for snack, but you get my point!).
Repeat exposure to an allergen can sometimes result in more severe reactions, so we try to avoid those foods as much as possible. And let's not forget that some children already have severe allergies to certain foods and any contact with those foods (even if it's in the air) can be potentially fatal.
2. We really appreciate it when you follow the rules
If your child ends up in a nut-free classroom, please don't send her to school with Nutter-Butters for snack. Whatever particular rules the school or individual teacher has set up, it's put in place to protect the health of someone, so please do your part. You wouldn't send your kid to school if he was sick and contagious, so please don't send him to school with something that might cause an allergic reaction.
3. We're not upset with you for forgetting about our child's food allergies
I was 28 years old when we found out about Samuel's food allergies, so I know what it's like to not give that sort of thing a second thought. I know what it's like to make cookies to share without reading any labels. I know what it's like to go to a potluck and choose whatever happens to look good to eat. In other words, I can relate.
So when you make something and I tell you I can't give it to my son, I'm not upset. When I'm pulling something away from him that you just put in front of him, I promise I'm not giving you the hairy eyeball (and I'm also not trying to be a jerk. See #1.)
4. On the flip side, if you remember our child's food allergies, we will love you forever
I know I just told you that we don't expect you to think about making allergy-friendly snacks. However, if you have the desire to, you'll win big points with us. There have been a handful of times when someone has gone out of their way to ask me what they could make that would be okay for Samuel to eat. Every time it's happened my hubby and I have been so blessed that 1) They even thought about it, and 2) They were willing to make extra work for themselves in order to include our son.
Every parent knows how heartbreaking it is to watch their child be excluded. When your child has food allergies, this becomes a regular part of life. Most kids with allergies are used to it and often times it doesn't even phase them, but speaking from a mother's heart, it's hard to watch everyone partake of a special treat except your child. If you have the time, ability, and resources to include our children, we will never forget your kindness.
 Parents of food-allergic kids, do you have anything to add? Parents of kids without food allergies, do you want to ask us anything? Share your thoughts and questions in the comments.