If this is your first time joining me for the Keeping It Real Challenge, click here to find out what it's all about.
Do you ever get a horrible thought in your head and once it's there, it's almost impossible to shake? I remember one time Eric was away and this thought popped into my head that something terrible was going to happen to him. In my crazy mind, I wondered if the thought was God's way of preparing me for what was ahead, even though I knew he was probably fine. Still, I breathed a huge sigh of relief when he was home, safe and sound.
This Thursday I had the rare opportunity to spend the day alone. The WHOLE day. We'd ordered a new recliner from a store two hours away and it was ready for pick up. My parents offered to watch the kids and told me to take the day and stop at the outlet stores on the way there. I could be wrong, but I think the last time I had an entire day all to myself was two years ago, so needless to say, I was jazzed.
I felt no guilt about leaving the kids. I firmly believe that time away from each other every now and then is good for us. Even a solo trip to the grocery store rejuvenates me, so I knew that an entire day away would bring me back to my kids refreshed and a better mom.
On Wednesday, though, a thought jumped into my head that I would get in an accident while I was gone. I tried to shake it, but once it grabbed hold, it wouldn't come loose. My excitement for the day was still there, but it began to wane a bit, which was really disappointing. I didn't want the day to be covered in a dark cloud of fake doom.
Then on Thursday morning it dawned on me that maybe something (my subconscious? the devil?)  was trying to steal my joy. 'Oh,' it said. 'You don't feel guilty about having a day to yourself? Well, let's dampen your spirit with a good old overactive imagination.'
As soon as I framed it that way, a weight was lifted. I had nothing to feel bad about. I wasn't doing anything wrong. The kids were going to have a lot more fun with my parents than they usually did with me, and I was going to have fun too, which is allowed.
Being a mom doesn't mean we can never do anything for ourselves.
Yes, motherhood requires a level of selflessness that is unparalleled in almost every other relationship. And yes, I'm a big believer in selflessness. But mothers are human and every once in a while we need to refill the tanks we're constantly draining for our kids.
So I took off for the day. And I had a great time. And my kids had a great time. And I didn't get in an accident. All in all, I'd call that a successful day.
So Moms. If you've been given an opportunity to take some time, even if it's half an hour, and you've been putting it off because you feel guilty, stop it! Take that time and enjoy yourself! You don't know when you'll get it again and I can almost guarantee that you'll come back ready to put 110% into caring for your kids.
And now the part of the post where I share pictures of our real, everyday life.
We went strawberry picking on Tuesday. All went well except that Samuel got bitten by a horsefly and is now terrified of any bug with wings.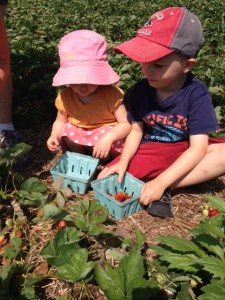 Here's an awesome boredom-buster idea (if I do say so myself): Have your kids create a scavenger hunt for you. My boys spent the entire afternoon working on theirs (freeing me up to get stuff done) and they did an awesome job. Eli wrote out rhyming clues (totally adorable and quite creative!) and although they made separate hunts, they worked together a fair amount to get them done. If your child can't read and write yet, no biggie. Samuel drew arrows all over the place and led me around on his hunt. Bonus: It was fun for me too! (In case you can't read the picture, it says, 'Hello great adventurer! I'm happy you could come. We are going to have fun!')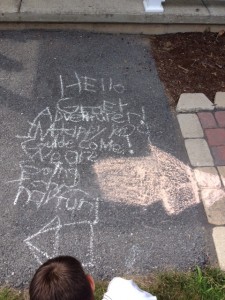 I had to snap this sad, sad picture of Samuel (with his cousin) staring longingly at a display case full of yumminess that he can't eat. Every single one was full of peanuts or dairy. Stupid allergies 🙁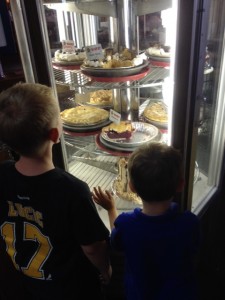 Have a great week and remember to keep it real!