Disclosure: Guys, this post if full of ideas about what NOT to get your wife for Christmas. However, in case you decide to ignore my advice, I'm including affiliate links to some of my anti-suggestions. You won't pay a penny more than normal and I'll get a small commission. The way I see it, you might as well make someone happy, and if it's not going to be your wife, why shouldn't it be me? Merry Christmas and thanks 😉
My husband is a fantastic gift giver. In fact, if I could hand over all gift buying duties to him, I would do it in a heartbeat. He always has great ideas, whether it's for a kid, adult, male, or female. He's just good at it.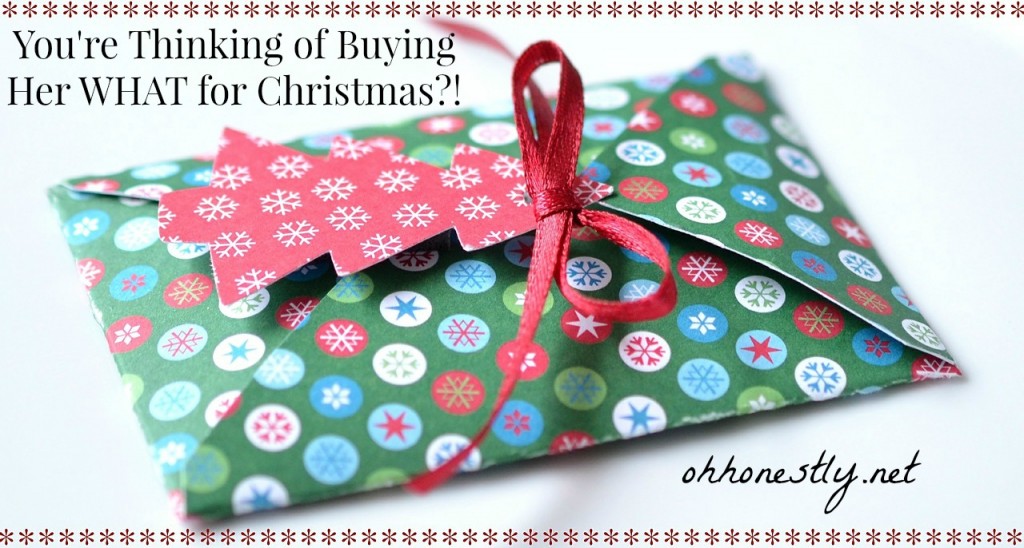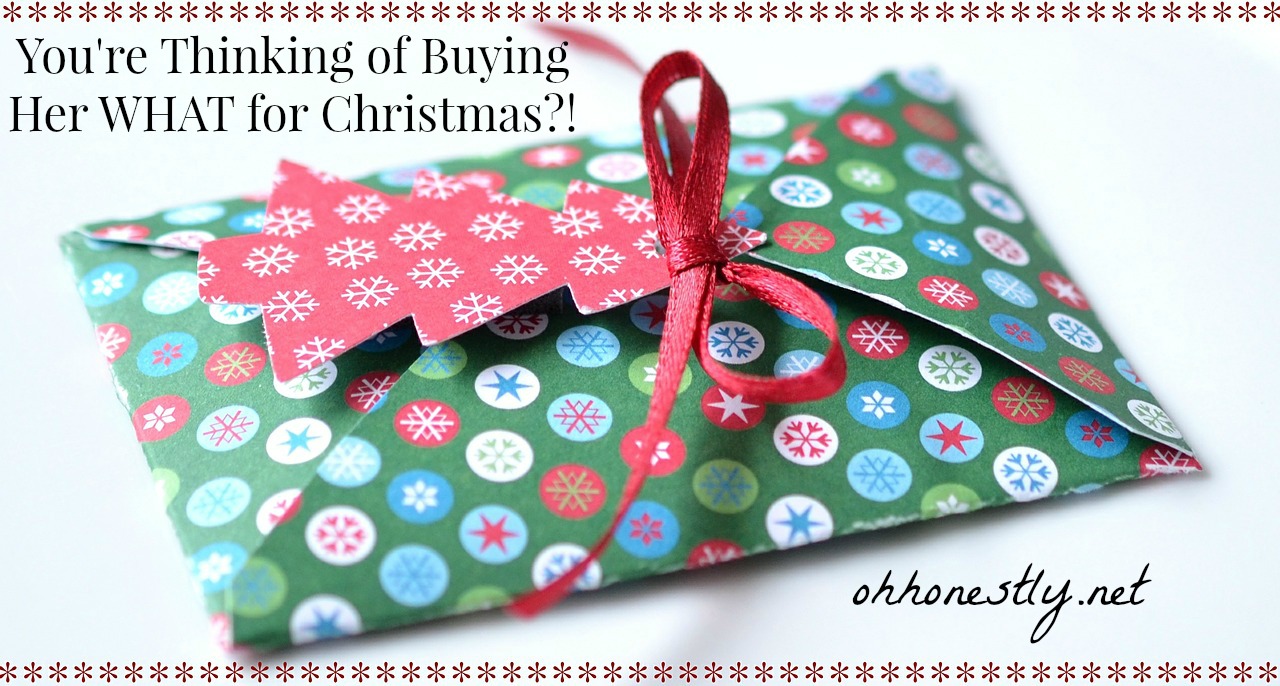 You're Thinking of Buying Her WHAT for Christmas?!
I've heard through the grapevine though that not all men are like this. So if you are a guy who struggles with what to get your girl each Christmas or if you're a woman who has gotten some… questionable choices from the man in your life, I'm here to help.
I don't have any suggestions about what to get her, but here are four surefire things to steer clear of. You're welcome.
1. Anything too practical
This category can be tricky because some people, myself included, enjoy practical gifts. I would rather receive a kitchen appliance than a new necklace (yes, I'm weird). The problems occur when you get too practical.
You've got to know the receiver pretty well in order to nail this one. Will she be excited to get the newest model Swingline stapler or will she think you forgot about her until 11 pm on Christmas Eve? Will she joyfully pursue the endless possibilities of a new blender or, like Annie in Father of the Bride, see it as your attempt to force her into subservient housewifery? If you can't answer these questions, don't buy a practical gift.
2. Anything that could be considered insulting
This includes:
Weight-loss items. Nothing says 'I think you look like crap' like a subscription to Jenny Craig. "But wait!", you say, "My wife told me she wants to lose 20 pounds." Let me give you a tip. Unless your wife specifically asked you to sign her up for Weight Watchers, don't do it!
Housekeeping items. Considering the latest Swiffer or perhaps a gift basket full of your favorite cleaning supplies? Think again. (And I know I'm writing to husbands and boyfriends, but if you call yourself Mother-in-law, definitely keep away from these gifts!!!)
Self-help items. Books, videos, CDs; whatever form they take, just steer clear.
3. Anything you know the receiver doesn't like or has specifically asked not to receive

This should be obvious. If your wife is a vegan, don't send her something from Hickory Farms.
(Side note: If your brother told you the kids have an over-abundance of stuffed animals, for the love of Pete, DON'T BUY YOUR NIECE THAT FIVE FOOT STUFFED BUNNY!!!)
4. Anything that provides the seller with a huge profit for little to no work and the buyer little to no product
There's one that really gets me: Buying someone a star.
Seriously, whoever came up with this scheme is an evil genius. They have somehow convinced thousands (millions?) of people that they own the universe and have the right to sell bits of it off for $54 to $489 a pop. I kid you not. $489!!! (Check out this link if you don't believe me). Not only that, they have also convinced a bunch of idiots people that this gift is the ultimate in romantic gestures. I know women who have asked for this!
Men, let me save you some money. Open up whatever word processing program you have, use a fancy font, insert a pretty star picture, and print your own 'Official Certificate of Star Ownership'. Or better yet, I'll do it for you… for the bargain price of $450.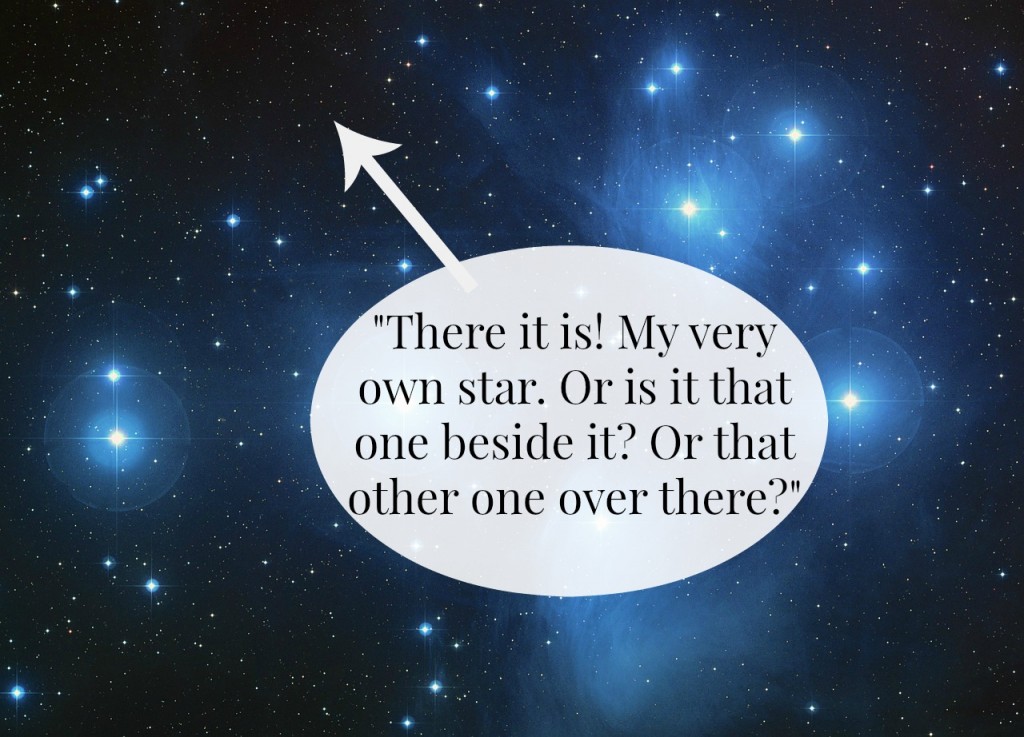 Anyway, I hope this (slightly snarky) list helps you navigate the choppy waters of gift buying for that special someone. And in all seriousness, if she loves you, she'll get over your less than stellar (star registry reference!) attempts. Just make sure to have a giant bag of chocolates as a backup plan.
What's the worst gift you've ever received?